LG G5 Review
99+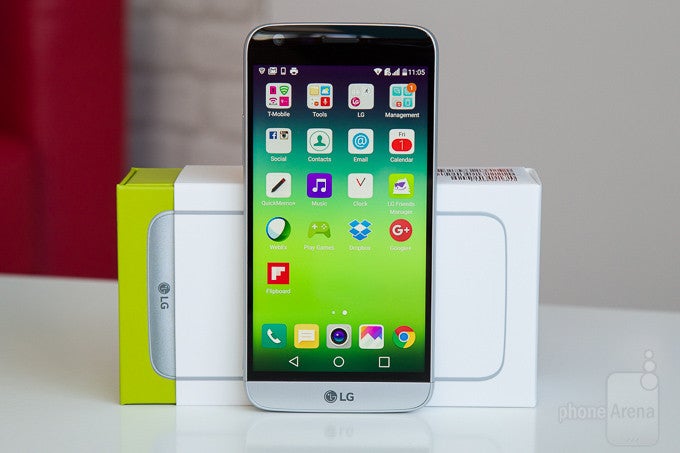 Update

: Read our LG G6 review!
Introduction
What makes a great flagship smartphone? You'd think that in a multi-billion industry, the answer would vary wildly, and for a good reason—it's a gigantic market serving the needs of hundreds of millions of people annually. But it doesn't, at least not lately.
Does that mean that we're getting high-ends that are barely any better than their predecessors stuffed down our throat? No, that's probably unfair. But it's been a while since we've had one of those few and far between, but highly prized, moments where our collective jaw drops, and we just
know
. We
know
that
this
is something special, new, and exciting. Something we really want to get behind.
With the G5, LG is undeniably shooting for just that. It wants to excite. It wants to entertain. It wants to change things up. And it wants to be unique. And there's a two-pronged approach to that: the G5 features a modular design, meaning you can exchange 'modules', or "Friends" as LG calls them, to get added functionality such as a specialized camera grip for a more convenient photography experience, or a high-fidelity DAC for improved audio. There are also
toys
that hook up to your device, such as an RC robot ball, and a hand-held, 360° camera. And then there's the unique camera configuration on the back of the G5, with two sensors—one wide, and the other even wider.
Life's Good When You Play
, LG says, and we doubt anyone would disagree. But in order to get to play with the G5 and its Friends, people will first have to dole out some serious cash to get one, and there are plenty of other companies vying for their attention (and monies). After all, at the end of the day, sans snap purchases, buying a flagship phone entails at least some consideration on the part of consumers, and so playfulness is just the icing on top. So it's time to see if the foundation underneath is solid enough to warrant the buy.
In the box:
Start Guide leaflet

microUSB Type-C to USB cable

1.8A FastCharge wall charger

SIM ejector tool
Design
Plastic is out, metal is in? Not exactly.
For the last three years, LG has had a very clear design philosophy when it comes to its flagship line—and the ones beneath it, which were influenced by it. It's what the company referred to as 'arc' design, or just barely rounded rectangles with a slightly arching top and bottom, and particulars such as rear-mounted power and volume keys, along with removable back plates from the G3 onward. With the G5, however, LG is closing that chapter of its design story and moving on.
Most will agree that the LG G5 is unlike any of its G-series predecessors. It's more aggressively rounded at the sides, smaller, thinner, and while the volume keys have been re-positioned to the left side, it's honestly quirkier than ever. The top of the phone, for example, is slightly (and somewhat inexplicably) flexed backwards, while a circular power key doubles up as a fingerprint scanner on the back, alike to the Nexus 5X. Seemingly more important in a world increasingly dominated by metal high-ends, however, LG finally joins the club and is ditching plastic—even if adorned with leather—in favor of cool aluminum. But it doesn't
feel
like metal, because the aluminum in the body is covered by a significant layer of primer.
By far the most peculiar part about the G5 is, of course, the modular bottom, which can be ejected with a press of a button on the lower left. The removal process itself is well thought-out, though once the module is out, we're always afraid that we're about to snap the 2,800mAh battery in half when trying to detach it from the base, due to the amount of force required. We were kind of hoping that this would be limited to the early production samples we got to try out, but the final unit is no different. Still, given how rarely you'll have to deal with this, it's probably not that big of a deal—just a bit disappointing, given LG's insistence (or hope?) on buyers getting these.
All said, does the G5 fill in the G4's leather shoes? We'd argue it does, and subtles touches such as the fine chrome lining of the frame sure help with that. So we dig the vibe of the phone, though the matte back is, naturally, on the slippery side. Meanwhile, the aforementioned chrome edge also digs into the hand a little bit. In the end, we applaud the minimalist approach this time around, but we also can't pretend that we're head over heels in love with the G5's styling either. It's kind of an acquired taste.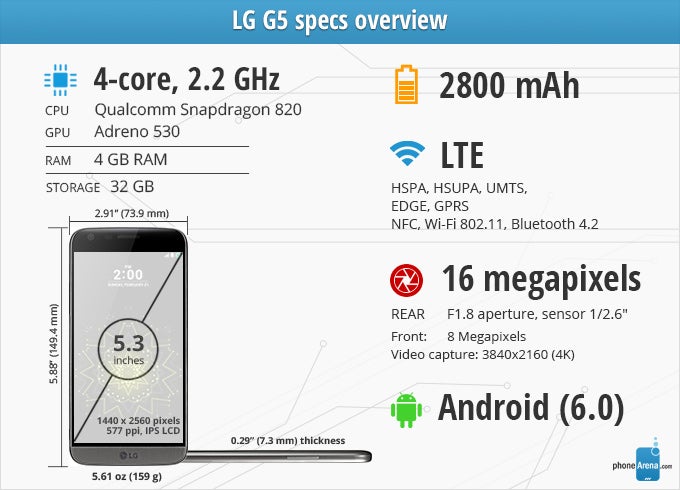 Display
A smaller display, but the same Quad HD resolution of old.
LG was the first to jump onto the Quad HD bandwagon, but thankfully, it has seen no reason to chase even more resolution with the G5. The 1440 x 2560 pixel resolution of old is what we're dealing with, though all that visual excess is now less evident than ever before, with the company going for a smaller, 5.3-inch display—a departure from the 5.5-inch panels of its last two flagships. To protect the screen, LG is making use of what it calls a 3D Arc Glass, which is really just a the company's way to market a Corning Gorilla Glass 4.
Like in the past, LG is banking on colors that "pop" with the G5, meaning significant deviations from the globally accepted sRGB standard. As was the case with our pre-production model, the G5's display is very cold (or bluish), because the display is lacking in red, leading to a color temperature of 7820K, which is a let down. Average gamma, at 2.14, is decent, but erratic in its behavior in that very bright portions of any image will be further brightened up artificially. These factors combined lead to a rather disappointing conclusion: color fidelity has a way to go.
On the bright side, and literally? The LG G5's display can get crazy bright in extreme environments, managing over 800 nits on the top end. It's also able to go decently low for the night owls among us, with a bottom of 4 nits.
Last, but certainly not least, the IPS LCD display of the G5 has been cleverly engineered as to allow it to jump on what is starting to feel like the next bandwagon: Always On Display. This new feature means that the phone will always display the time and date, along with any incoming notifications—even ones from third parties. Customization is limited to just adding a personal message, which is a bit unfortunate, as is the fact that the content is rather hard to read from even a moderate angle—especially when there's light from lamps or the sun bouncing off of the display.
LG's pitch is that because we wake up our devices so many times a day to check the time and what we've missed notifications-wise, the net result from Always On Display would be positive, with lower battery drain and better user experience. However, we're actually on the fence as to whether this is a truly useful feature, as even though it displays notification icons from third-party apps (unlike the Galaxy S7 and S7 edge), you still will be waking up the screen to find out what they say.
Display measurements and quality