Deal: Samsung Galaxy S6 edge+ priced at just $359.99 (30% off) on eBay
1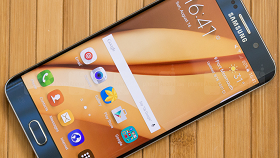 Over at eBay, top-rated seller qualitycellz is offering the Samsung Galaxy S6 edge+ in brand new condition and with a manufacturer warranty at a price of $359.99. The handset is available in either Black or Gold. Depending on the version, the discounts compared to the Amazon prices range between
25% and 30%
.
The price is good for Verizon-branded units that are unlocked and can be used on either Big Red or GSM carriers such as AT&T and T-Mobile. The seller says that limited quantities are available at this price, meaning that you might want to hurry if this sounds like a tempting price for the Samsung Galaxy S6 edge+.
Although it's a year-old device, the Samsung Galaxy S6 edge+ is still a very potent Android phablet to date and, at this price, is kind of hard to beat.
Just in case you need a refresher, the Galaxy S6 edge+ comes with specs that include a large 5.7-inch Super AMOLED display with curved edges and running a resolution of 1440 by 2560 pixels, a Samsung Exynos 7420 Octa SoC with an octa-core CPU, 4GB of RAM, and 32GB of (non-expandable) integrated storage. Check out the following links if you're still having doubts whether the Galaxy S6 edge+ is the right phone for you.
What do you guys think, is the Samsung Galaxy S6 edge+ worth $359.99?