Samsung Galaxy S6 edge+ vs Samsung Galaxy S6 edge
11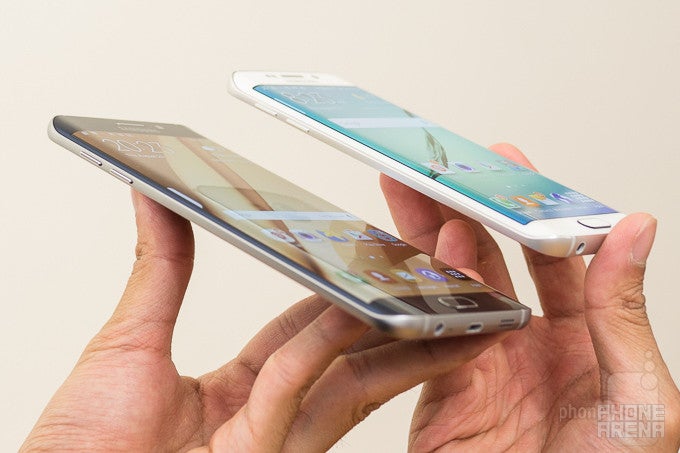 Introduction
With the
Galaxy S6 edge+
, Samsung is pandering to the ever-growing market niche where 5" displays are simply not enough. Those of us who liked the innovative dual-edge screen of the
Galaxy S6 edge
, but are reluctant to use anything less than 5.5 inches, can now have everything they like about the S6 edge, but with a bigger screen, and still in a very slim form factor.
Other than that, the specs are nearly identical, save for the one gig of RAM more on the S6 edge+, and the larger battery.
Design
While with a way better screen-to-body ratio than the S6 edge, the 5.7" S6 edge+ is still harder to handle than its smaller sibling.
Messing with the best, this year Samsung decided to ditch its signature plastic designs, which, however, were among the few left to offer removable batteries or expandable storage. Both the Galaxy S6 edge and edge+ are made with a high-grade aluminum alloy frame and side rim, with layered nanocoating of the glass back to achieve shiny uniform coloring. Unlike the S6 edge, its larger sibling doesn't feel as "edgy" in the palm, as the frame's edges are smoother.
Moreover, the Galaxy S6 edge+ is slightly thinner, and with way better screen-to-body ratio than the S6 edge, despite still having a physical home key and fingerprint scanner embedded there, below the display. Other than those subtle differences, the overall look of the two handsets is practically identical, complete with the big, protruding camera unit on the rear.
Displays
The difference in screen sizes is significant, but the Super AMOLED characteristics are nearly identical on both handsets.
Hey, it's Samsung's Quad HD Super AMOLED display technology on both handsets, did you expect anything else? We bet you didn't, but the display panels host the biggest difference between the two – while the Galaxy S6 edge has a 5.1" 1440 x 2560 pixels screen, the S6 edge+ strikes back with a way bigger, 5.7-incher with the same characteristics. Naturally, this means that the pixel density will move from the record 577ppi on the flagship phone, to the still more than respectable 518ppi on the S6 edge+.
Other than pixel density, the rest of the screen characteristics are pretty similar. The screens share the same 500+ nits of maximum brightness and low reflectivity, making them good for use outdoors, even on a bright sunny day. Color credibility is very good, at least in the Basic display mode. The default mode is Adaptive Display, though, where AMOLED exhibits oversaturation nearing the Adobe RGB, rather than the standard color gamut. Also, even in the basic display mode, tilting the phone about 30 degrees or more will result in a dramatic color shift towards the cold side of the spectrum, making the display appear blueish. Other than that, the viewing angles are excellent throughout, and the deep blacks that AMOLED displays are famed for, are evident on the S6 edge and edge+ as well.
Display measurements and quality
Recommended Stories