Dead Trigger coming to Android today, already available on iOS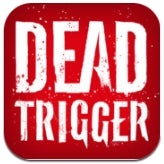 It was about a month ago when we
introduced you to Dead Trigger
– a zombie-themed first-person shooter from Madfinger Games. If the name of the company sounds familiar, that is because the same folks brought us the popular Shadowgun. So yeah, their newest title is likely to be just as awesome, and it looks like everyone with an
iPhone
can already give it a try.
Dead Trigger is expected to be released today on the Google Play store
and will be priced at $0.99. What's more is that the game can already be downloaded on iOS for the same amount of money. That is a pretty tempting deal considering you'll be getting a quality first-person shooter in exchange. After the game makes its debut on Android, a THD version will be made available at the Tegra Zone for all of you rocking a Tegra 3 smartphone or a tablet.
In Dead Trigger, you will be given a set of missions, with each of them expected to take you anything from 2 to 10 minutes to complete. Along the way, you will have to blast your way through hoard of zombies, collect vital items, and protect your base for a set amount of time. Weapons can be upgraded using virtual currency that is accumulated through playing, or with an in-app purchase.
Interested? Then check out the official trailer embedded below, and if what you see seems exciting, follow the iOS download link below. For the Android version, keep an eye on the Google Play store.