Dead Trigger blends zombie-shooting fun with eye-pleasing graphics, optimized for Tegra 3
8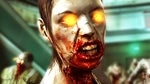 Madfinger Games – the makers of the well-known shooter game
Shadowgun
, have announced a new upcoming title made especially for trigger-happy gamers. Trigger-happy gamers with Tegra 3 devices, to be precise, as
Dead Trigger
has been optimized for NVIDIA's snappy quad-core chip.
So here is the deal: a mysterious infection spreads across the world, and now hoards of zombies roam the streets. It is up to you to lay waste to each and every one of them. Nothing too compelling of a story line, we know, but who needs all that distraction when gamers can enjoy Dead Trigger's console-quality graphics and advanced physics? In fact, the folks at Madfinger Games have put together a quick demo video that shows how detailed and polished their game looks when the Tegra 3's processing prowess is put to good use.
Those of you who don't have a Tegra 3 smartphone or tablet will still be able to play Dead Trigger, yet without all the eye-candy you can see in the video below. The game will be coming soon to the Tegra Zone and the Google Play store.