Check out these fresh pictures of the Xiaomi "Meri"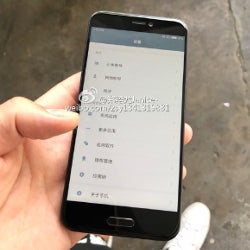 Last week, we showed you
some images of a phone that was thought to be the Xiaomi Mi 5c
. Today, more pictures of the same device have leaked, giving us the opportunity to learn more about the handset. This is not the Mi 5c, as you probably figured out already based on the first sentence. The phone in the pictures that you will find in the slideshow is being called the Xiaomi "Meri," and we happen to have some limited specs to pass along.

The Xiaomi Meri carries a 5.1-inch screen, the resolution of which is unknown. Driving the handset will be a chipset containing an octa-core 2.2GHz CPU. The phone has 3GB of RAM inside along with 64GB of native storage, and Android 6.0 is pre-installed. No other information about the unit is known at this time.

Feel free to peruse the slideshow to check out some images of the Xiaomi Meri. The current buzz around the water cooler suggests that the phone will be unveiled at the end of this month.


Photos of the Xiaomi Meri

source: Weibo via Playfuldroid