Certain local guides can now post food-related pictures on Google Maps
3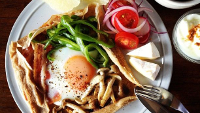 For some reason, taking a picture of a meal before it is consumed has become quite a tradition on some social media sites like Instagram and Twitter. Google is now offering a way for foodographers to take pictures of their meals for Google Maps. The feature is rolling out to local guides with a level 3 rating and above. Those who qualify for the feature can snap photos of food and drinks at a restaurant or bar.
Those pictures that Google finds interesting to others, will result in a notification being sent to the person who snapped the food-related photograph. At that point, Google will provide that person with a two-tap link that will allow the photo to be attached to the restaurant location on Google Maps for the world to see.
While Google has not given a specific name to the feature, it does replace the
Tablescape
service for Google+ that allowed users to upload photos of food in special categories. The service featured food photographs along with content from Google, and hints on how to be a better "foodographer." Alas, that service was short lived. It started in February and was shut down within a few months. Google is keeping the spirit of Tablescape alive with the new feature for the Android version of Google Maps.
While only certain highly ranked guides can post these food related pictures now, it is believed that Google will eventually offer this feature to everyone.
source: Maps (
Android
) via
AndroidPolice
,
Engadget