Canadian Samsung Galaxy S III owners to get Jelly Beaned on December 3rd
2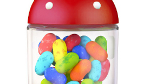 To see if you will receive Samsung's December 3rd update to Android 4.1 for the Samsung Galaxy S III requires an affirmative answer to two simple questions. The first question is, do you own a
Samsung Galaxy S III
? If you answer yes, then ask yourself if you use a Canadian carrier. If the response is again yes, congratulations! You will be receiving the Android 4.1 update
as soon as a week from next Friday
. To update every model in Canada takes time, so if you don't receive the update right away on December 3rd, don't start seeking out tall buildings on December 4th.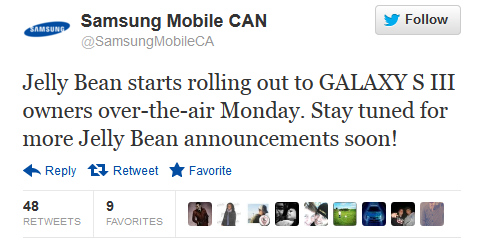 Samsung tweets the good news
The December 3rd update to Android 4.1 for Canadian Samsung Galaxy S III owners is a bit of news that comes from
our Aunt Martha's bridge partner's podiatrist's maid's butcher who heard it from a Gypsy being interviewed on a local community cable show in Portland, Maine
Samsung itself. The Korean manufacturer's Canadian division sent out a tweet to let everyone in Canada know that the update is coming. Jelly Bean brings Google Now and Project Butter.
among other features
.
Samsung didn't say which carrier will go first, but the good news is that there is a start date for the process. Why, it's almost enough to make Verizon and AT&T customers with the phone, defect to Canada.
source:
AndroidCentral