Boulder Dash - 30th Anniversary expected Q1 2014 for iOS and Android, pays homage to the classic game
2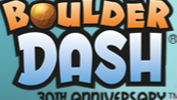 Initially released in 1984, the Boulder Dash arcade game is considered to be one of the classic titles of the gaming industry. The gameplay was simple - the protagonist of Boulder Dash, called Rockford, had to dig holes through caves and lay his hands on as much gems and diamonds as possible before his time runs out. Various enemies and obstacles stood in Rockford's way and tried to prevent him from collecting the precious stones.
More than 20 different versions of Boulder Dash were released over the years and it seems like another one will be coming out in early 2014. Dubbed Boulder Dash - 30th Anniversary, the upcoming game will commemorate the anniversary of the classic game's release. The upcoming title is being developed by TapStar Interactive in collaboration with the original creators of Boulder Dash, Chris Gray and Peter Liepa. Both have not worked together on any other Boulder Dash game but the first one until now. So, we might expect that the upcoming Boulder Dash - 30th Anniversary will be something like a spiritiual sequel of the 1984 arcade classic.
"Boulder Dash is a classic game that's due for a proper update."
- says Chris Gray, co-creator of Boulder Dash.
Boulder Dash - 30th Anniversary will come with more than 50 new levels, some designed by both Liepa and Gray themselves. It will be the first game from the series to sport diagonal walls and movement. What's more, just like the 1984 game, Boulder Dash - 30th Anniversary will have a level editor, which will allow players to create their own caves and missions. The graphics of the game will feature 3D elements and animations, while gamers will be able to choose from two playable characters – Rockford, the protagonist from the classic, and Crystal, a newly-introduced female character.
Boulder Dash - 30th Anniversary will be a freemium title, so players will be able to purchase new playable worlds, enemies, and additional features. The developers say that the game "will launch early in 2014" and will land on iOS and Android-powered devices.
source:
TapStar
via
TouchArcade