Bloomberg confirms Google Nexus tablet is coming at I/O
4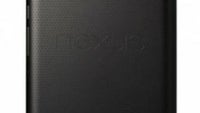 Google I/O is right around the corner with plenty of excitement to come with the Jelly Bean announcement, that Google itself tacitly confirmed by introducing the Jelly Bean statue at its Googleplex, and now we have one more source after Gizmodo Australia confirm that the search behemoth is
bringing its first Google Nexus 7 tablet
with prices starting from $199.
Bloomberg claims that the affordable tablet aims squarely at the iPad despite its smaller, 7-inch screen, but for starters it has to find its niche in tablets first after for a year or so Gingerbread, then Honeycomb and ICS tablets couldn't generate huge sales. The new tablet will also serve as a platform to showcase the new features coming with Jellybean.
Analysts from Gartner say that sales of tablets could nearly double this year to 118.9 million units, and there's a huge opening for Google in this number. Right now, Android is the most popular operating system for smartphones but for tablets it's struggling to get half of the iPad's share despite the plethora of models available.
Microsoft introduced its own Surface tablet recently, also in an attempt to compete with the iPad, but it's expected to do so in the premium segment with prices starting from $599 for the cheapest Wi-Fi-only model.
So far, Google's Nexus tablet, made by Asus, is rumored to come with a 7-inch 1280x800 pixel IPS display with wide viewing angles, a quad-core 1.3GHz Tegra 3 chip and 1GB of RAM. It's also said to have a 9-hour battery which is a great achievement for such a small form factor. But the $199 price is the real killer here, stay tuned - it's all expected to become official today!