BlackBerry won't offer an entry-level BlackBerry 10 model this year; BB 7 continues to sell well
20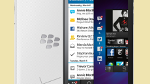 BlackBerry European Managing Director Stephen Bates said that there will be no entry-level BlackBerry 10 model coming from Waterloo this year. Bates said the company brought out higher end devices like the
BlackBerry Z10
and the upcoming
BlackBerry Q10
to show the world what the new BlackBerry is about. At the same time, Bates said that the company had strong sales on BlackBerry 7 devices in the U.K. during the holiday season, and BlackBerry does not plan on giving up on BB7 for the time being. In other words, BlackBerry is telling you that if you want an
entry-level 'Berry
, go buy a BlackBerry Curve.
"We've brought out these high-end devices as a as a statement of intent - to demonstrate vividly the new BlackBerry. Our intention is to evolve that portfolio to enter the mid-tier. But we don't see us getting to the entry level tier for some time; certainly not this year. Based on the great sales we've had over Christmas in the UK there is a demand for the entry level BlackBerry and we don't want to give that up so we're going to continue with Curve and the entry level as we bring BlackBerry 10 down through the mid-tier and eventually into the entry level."-BlackBerry European Managing Director Stephen Bates
BlackBerry UK and Ireland MD Rob Orr says that in the new BlackBerry portfolio, the BB7 devices are the
workhorses
for financial institutions and the government. Those have been the buyers of the previous-generation BlackBerry models. Orr said it is important to show that the company is not giving up on models like the BlackBerry Curve.
"In enterprise the BB7 portfolio is the workhorse device; government, financial institutions… these guys are continuing to purchase BB7. And in the prepaid space we had a very successful run for Christmas. It was important for us to show that we're not giving up on BB7. We launched BBM voice and it connects into the BB10 world where we've added video and screen sharing."-Rob Orr, BlackBerry UK and Ireland Managing Director
The
biggest test of the new BlackBerry 10 will come next month
when the all-touch BlackBerry Z10 is launched in the United States.
source:
TechRadar