Heins disappointed in March launch for U.S. BlackBerry Z10
39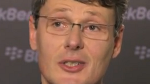 BlackBerry CEO Thorsten Heins should have a smile on his face. After all,
the BlackBerry Z10 is off to a great start in the U.K.
, where the device is said to be off to a faster start than the
Nokia Lumia 920
, and the phone launched today in BlackBerry's home country of Canada. But Heins says that in order for BlackBerry to be successful, it has to
retake market share
in the U.S. And the executive is disappointed that U.S. sales of the all-touch BlackBerry Z10 apparently won't start until late next month. A leaked photo on Monday revealed that
we could see T-Mobile launch the phone on March 27th
. "
We need to win back market share to be relevant
," Heins said. "
We have to be aggressive in the U.S. market
."
BlackBerry once owned the U.S. mobile phone market. In 2008, the company was responsible for
46% of the market
, a figure which plunged to only 2% last year according to IDC. Heins is eager to show the U.S. what BlackBerry 10 has to offer to get the market share moving back up. Meanwhile, the executive is resigned to the fact that U.S. carriers have a longer testing process than overseas carriers. He says, "It is what it is, we need to respect that."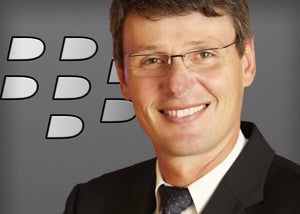 A smiling Thorsten Heins says that the U.K. launch of the Z10 was above expectations
Heins said that he is confident that BlackBerry can take over
third place
behind Android and iOS in market share and despite his hopes for a strong start in the U.K. where the
BlackBerry Z10
launched first, he said the results have been above expectations with the white version of the phone sold out, and the black model hard to restock. He said that many U.K. buyers are moving to BlackBerry from another platform which he considers a bonus since the company first targeted long time 'Berry users in the region.
While each carrier is different, the CEO said that 6 to 8 weeks after a carrier releases the all-touch BlackBerry Z10, the physical QWERTY equipped
BlackBerry Q10
will launch. Responding to criticism suggesting that BlackBerry should have released the BlackBerry Q10 first because of the manufacturer's traditional emphasis on a strong keyboard, Heins said that the touchscreen model was more complicated and that he wanted to have that model finished first. In addition, Heins pointed out that BlackBerry had missed the BYOD trend in the workplace and since people were bringing their touchscreen phones to the office, he wanted the Z10 to be considered for both personal and business use.
With the BlackBerry Z10 launching in Canada on Tuesday, we should soon find out if the U.K. experience was a positive sign for the resurgent company, or just a fluke.
source:
AP
via
BGR