BlackBerry PlayBook to come with a music store, over 13 million tracks on board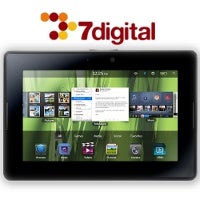 BlackBerry's PlayBook might be comingout next month, but folks from RIM continue adding features and thenewest one is the 7Digital music store with its collection of over 13million high-quality MP3 tracks (320kbps that is), which will comepre-installed on the 7-inch tablet. You'll be able to search tracks,artists and albums, as well as preview songs prior to making a purchase.Prices will be the same as the ones on the 7digital.com website, buttranslated into your local currency. In addition, a podcasting app will be similar to the music store in terms of categories and basic functionality. Subscriptions are also included bringing the latest of audio and HD video podcasting content right to your tablet.

"The 7digital Music Store is aperfect complement to the high-performance BlackBerry PlayBook,providing users with fast searches and downloads, and a slickinterface that makes it very easy to discover, purchase and enjoymusic," Alistair Mitchell, VP of BBM Platform &Integrated Services commented. "We are thrilled to be working with7digital to provide BlackBerry PlayBook users with access to anamazing catalog of 13 million tracks." The PlayBook is coming in separate 4G versions for pretty much every major U.S. carrier and is expected around April.

source: BlackBerry and CrackBerry