RIM unveils an LTE and HSPA+ BlackBerry 4G PlayBook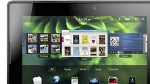 RIM's BlackBerry PlayBook tablet hastaken us with its unique QNX-based OS and business allure, but itsconnectivity is what matters the most for some. And now, RIMannounced that it will release an LTE and HSPA+ models of theBlackBerry 4G PlayBook. This means that all four major U.S. carrierscould get the tablet. The PlayBook was already announced in its WiMAXversion fit for Sprint and in the original Wi-Fi only edition.
The new models are expected in thesecond half of 2011. RIM's Co-CEO Mike Lazaridis said:
"The BlackBerry PlayBook tablet isalready being widely recognized for its superior performance, richweb experience, enterprise readiness and deep support for webstandards and open development tools. We are now building on theBlackBerry PlayBook's many advantages with support for additional4G networks that will allow enhanced business opportunities forcarriers and developers and unparalleled mobile experiences forusers."
The QNX-flavored BlackBerry 4G PlayBookis expected to hit shelves first in its Wi-Fi only version for $499for a 16 gig model.

source: RIM