Black Friday 2013: deals on smartphones, tablets and apps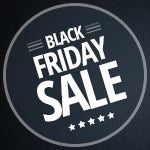 Black Friday 2013 is almost here (November 29), and you can bet there are going to be some pretty sweet deals on smartphones, tablets, apps and games. And being the absolute deal lovers that we are, we've made sure to put together a bunch of handy guides that will make it easy for us all to discover the hottest products that have gotten generous discounts this year.
So here's what we have: first, we're giving you our selection of piggy bank-busting Black Friday 2013 deals on smartphones and tablets (and some other electronics). The second post will take you to our collection of discounted Android, iPhone and iPad apps and games, and, since companies and retailers are constantly updating their deals, the third post will actually take you to our pick of applications that will let you easily track all kinds of Black Friday 2013 deals yourselves, with the help of your smartphones.