Better late than never: Sprint customers receive BlackBerry 10.2.1
5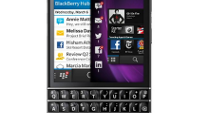 Last month,
Verizon
and T-Mobile subscribers with a BlackBerry 10 device,
received the update to BlackBerry 10.2.1
. This morning, we are happy to tell you that Sprint customers are also receiving the update. The only BlackBerry 10 model sold by the carrier is the
BlackBerry Q10
. If the updated OS build hasn't been pushed out to your 'Berry OTA, check the settings to see if you can coax it out of your phone.
BlackBerry 10.2.1 allows you to download and run many Android apps. It also adds the Priority Hub for quicker delivery of IMs, emails, notifications and calls. Wi-Fi Direct brings peer to peer sharing of content to other BlackBerry Q10 or BlackBerry Z30 models, faster than Bluetooth. The update will also turn your phone into an FM radio. New features have been added to help you manage the battery life better on your Sprint branded BlackBerry Q10, including the ability to view certain websites while offline.
If the update doesn't hit your Q10 today, be patient. BlackBerry 10.2.1 is sent out in waves, which means that if it isn't available on your phone today or tomorrow, it will be very soon.
source:
Crackberry