Beta for Apple's watchOS 2.2 includes new features for Maps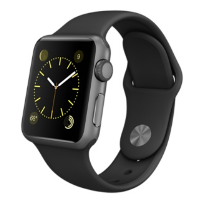 Apple has recently sent the watchOS 2.2 beta to developers, and it reveals that the gang in Cupertino is working on improving the native Maps application on the timepiece. Borrowing from the Google Maps app for the watch, the update adds quick navigation to your home or work from your current location. In addition, calling up the Search function on Maps will no longer require Force Touch to open.
The new build of watchOS will also bring over the Nearby feature that was added to Maps in iOS 9.
Apple Watch
owners, once watchOS 2.2 is released, will be able to find places close-by that offer food, drinks, shopping, fun, health and more. Clicking on one category will lead to a more specific list. From there, you will find business names, the distance from your current location, star rankings, hours of operation, location and more.
As we told you you the other day, watchOS 2.2 along with iOS 9.3 (which also is currently in beta) will
allow someone with multiple Apple Watch units to pair all of them on one particular iPhone
. You might have an Apple Watch Sport for the work day, and an Apple Watch Collection model for those ritzy parties you attend at night. Or, you could be a developer checking to make sure that your handiwork is compatible with both the 38mm or 42mm Apple Watch screens.
Quick Navigation and Nearby both come to Apple Watch with watchOS 2.2
source:
9to5Mac