Best new phablets: coming soon to a store near you
10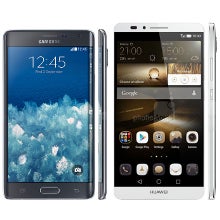 The IFA expo in Berlin is in full swing still, but most of the important phone announcements are already behind us, so we can do some roundup-ing of what was revealed, and is ready to hit the shelves in a few short weeks in most cases. The biggest trend we noticed is, you guessed it, the tendency towards bigger and bigger screens.
While a year ago the average screen size of the phones announced might have been hovering way below the 5" mark, now 5-inchers are considered the norm, and a bunch of the handsets revealed got filed in the 5"+ category, with a few 6-inchers making the rounds, too. We don't know if and when this tendency will stop, as those phone sizes are becoming ridiculous to handle and carry already, but, as Huawei's chief eloquently put it: "
big-screen phones are a hit in Asia because of all the online gaming there, but we feel that Europe is now ready for large phones as well
."
That's why we are rounding up a few of the most prominent big-screen and phablet handsets that were present at this year's IFA expo, to gauge how the average screen diagonal has been inflated since last year.