Best Galaxy S6 edge+ cases
2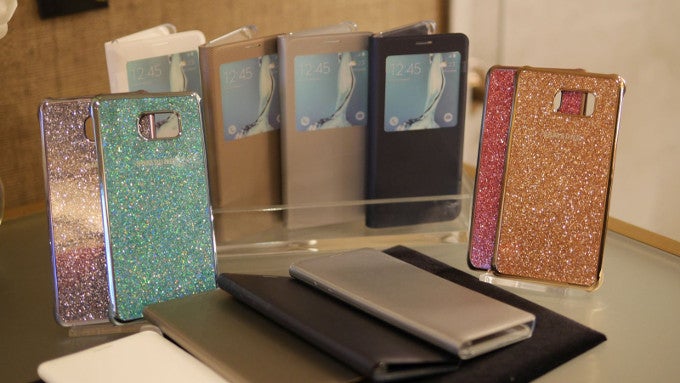 The
Galaxy S6 edge+
will be a godsend for those of us who were intrigued by the unique interface interactions that a side-sloping flexible display can bring, and yet couldn't stomach a "mere" 5.1" display diagonal. Granted, Samsung is obviously still experimenting with ways to make its innovative plastic substrate panels bring added value in everyday operations, but even without the App Edge and People Edge quick launch options, the S6 edge+ is one mean and powerful media machine that will stay futureproof for the foreseable horizon. The only downside is that owning a piece of the future is not going to come cheap.
As with the
Galaxy S6
and
S6 edge
before, Samsung has unveiled a set of premium official cases for the brand-new
Galaxy S6 edge+
, and we are also rounding up some of the best third-party options for wrapping up your precious dual-edge handset. The official ones that we got from Samsung show that "clear" cases will be making a return for the S6 edge+. They are mostly transparent, with metallic accents around the edges, and serve to provide protection while leaving the phone's beautiful aesthetics visible. Additionally, the curvy phablet will be getting a glittery case model – coming in a variety of colors, these back covers are bejeweled with a large amount of reflective little stones, surrounded by a metal frame. So, they won't destroy the phone's metallic looks, though, they add quite a bit of shine – maybe not something that would be to everyone's taste.
Then, there is this crazy hardware keyboard case that is coming out for both the Galaxy S6 edge+. This little gizmo snaps on to the back of the phone just like a regular cover, but then has a frontal part connect to the lower half of the handset's face. This frontal piece provides a hardware keyboard, which we got to see and try out – here's our hands-on with it below, and check out the rest of our case picks for the side-sloping Galaxy S6 edge+, too.
As usual, the Tough Naked series from Case-Mate offers both protection and a transparent finish to showcase your device. With a dual layer design and bumper, it is tough enough to survive those accidental drops and scrapes, maintaining the look of your Samsung Galaxy S6 Edge+.
Spigen's Hybridized Clarity portfolio for the Galaxy S6 edge+ offers clear TPU casing for flexible durability, while the tough polycar frame provides edge protection (pun intended).
This brushed-metal looking Galaxy S6 Edge+ High Pro Shield from Verus has raised edges to prevent the screen from scratches, high-grade TPU and polycarbonate combo, as well as soft-touch inside layer cushions to protect the phone in case of drops and bumps.
The Sheer Glam series of Case-Mate needs no introduction, as it not only offers slim yet rugged protection for your Galaxy edge+, but also adds a touch of Swarovski-like sparkle to your dual-edge lineage.
Obliq's Naked Shield series offer what the other such cases do - a thin yet durable protection from drops and bruises that keeps thing transparent to showcase the nanolayered coating of your Galaxy edge+. Still, it adds a little twist in the form of a built-in kickstand to prop this multimedia powerhouse while watching movies on the big, bright, side-sloping display of the edge+.