Batter's up: MLB offers its At Bat 2010 app for iPhone, Android and BlackBerry Storm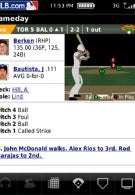 With Spring Training already underway, the 2010 Major League Baseball season is just around the corner. If you are a big fan, the MLB At Bat app is a must-have for your mobile phone. Last year, the app was available on the iPhone and this year, MLB has upgraded it and has now made the app available for Android phones running 1.5 or higher, and the BlackBerry Storm and Storm2, besides the iPhone. The price has risen 50% to $14.99, but for the fan who eats, drinks and breathes the American Pastime, it is worth every penny.
The app brings you streamed audio of every regular season and post season games (you can select to hear the home team announcers or the road team announcers), in-game pitch tracker, box scores, video highlights and more stats than you can swing a Louisville Slugger at. iPhone users will be able to view selected out of market games through streaming video and a separate subscription to MLB.TV. While currently the Storm and Storm2 are the only BlackBerry handsets that the app will work with, right after Opening Day, other 'Berries using the 5.0 OS will be able to use At Bat 2010. At Apple's iTunes app store, At Bat 2010 is already the highest grossing app ever. You might say, it's a hit! For information on subscribing to the At Bat 2010 app, visit the source link.
source:
MLB
via
CIO