Ballmer wishes he could have the last 10 years back to focus on mobile
35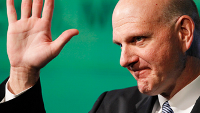 Former Microsoft CEO Steve Ballmer wishes that he had a time machine. This way, he could go back ten years and refocus his energies on Microsoft's mobile platform. As it turned out, Ballmer says that he was spending his time with Windows Vista. "
We would have a stronger position in the phone market today if I could re-do the last 10 years
," he said, noting that as a 4% stockholder in the company, he still benefits from the success of Microsoft.
Speaking of success, he called the acquisition of Nokia's Devices and Services businesses important to the future of Microsoft. The $7 billion acquisition is expected to close soon. While
Kantar recently called Windows Phone the fastest growing OS in the world
, the platform is coming off such low market share numbers that a small improvement results in a large percentage improvement.
While Windows Phone is just coming into its own now, there was a time when Ballmer was certain that
Windows Mobile would be able to challenge iOS and Android in the touchscreen space
. But for the fiscal year that ended in June 2010, the former CEO
received only half of his maximum bonus award
because of the missteps Microsoft was experiencing in mobile.
"Will that asset (WhatsApp) ever be worth anything? Will those 450 million people ever generate enough revenue? Reasonable people – Zuckerberg believes so, and no reason to doubt it."
-Steve Ballmer
Ballmer also questioned whether or not WhatsApp will prove to be worth
the $19 billion that Facebook paid for the messaging app
. He said that if Mark Zuckerberg believes that the 450 million subscribers to the messaging app will generate enough revenue to make the deal worth it to Facebook, why should he doubt him?
The executive was speaking Tuesday at Oxford University for his first public appearance since leaving Microsoft.
source:
WSJ