Kantar: Windows Phone is the fastest growing OS on the planet
46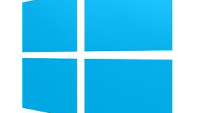 In its latest report on Mobile Trends, researcher Kantar calls Windows Phone "
the fastest growing OS in the world
." Kantar says that things started turning last year when the
Nokia Lumia 520
and
Nokia Lumia 620
were both launched, focusing the platform on the low to middle-range price points and the first-time smartphone buyer. According to the report, Windows Phone is now grabbing former Symbian users and is beginning to get the former low-end Android user. Kantar sees these first-time buyers eventually upgrading to higher-priced models providing Nokia and Microsoft with a high-end customer base.
Kantar's report also throws around some interesting stats. For example, only 41% of smartphone buyers are loyal to a specific brand, while 68% are loyal to a specific OS. This hasn't been an issue for Samsung, but Kantar points out that HTC, Sony and LG are trying to get consumers to "connect with the brand." The research firm also notes that consumers are interested in purchasing devices with larger screens, explaining why smartphone users are using the device to watch more video and are surfing the web more while using their handset.
In Europe though, the demand for phablets might have peaked. Nearly half of all European phablet owners upgraded to a phone with a smaller screen last year. Kantar says that with phones like the
Samsung Galaxy S4
and
LG G2
offering screens around 5 inches with thin bezels, many consumers can get the phablet experience from a smartphone.
A survey done by Kantar finds that Android has the global lead with a 70% smartphone market share in 12 major world economies vs. 22% for iOS. But iOS tops Android in the percentage of users who considered themselves loyal, 84% to 78. The average iOS user pays a $72 monthly mobile bill vs. $69 for those sporting an Android flavored device. More iOS users consider themselves to be heavy users with 32% putting themselves in that category vs. 20% of Android owners. And by a slim margin, more iOS owners would recommend their current device than the number of Android users who would do the same thing.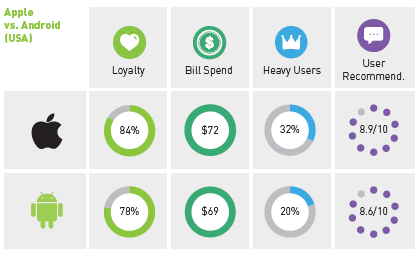 More iOS users than Android users are loyal to the OS
source:
Kantar
(pdf) via
WMPoweruser