BBM for iOS beta is updated to include message retraction and timed messages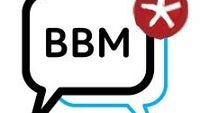 An update to the
BBM for iOS beta
adds some cool new features
that already have been introduced by BlackBerry
. With the update, users can retract a message that has been sent hastily. For example, you might have sent a message to your significant other in the heat of an argument, and then regretted sending it immediately. With the new update, you can rescind the message as long as it wasn't already read. The message can be then edited (to replace the word "hate" with "love") and re-sent.
You can also set a timer to give your message a certain shelf life before it self destructs. If you don't want something you've written to linger afterward just in case it is read by the wrong people, the Timer feature can give you peace of mind, knowing that your message is no longer available to be read. In other words, you are giving the recipient of your missive a certain amount of time to read what you have to say before it disappears forever. The message retraction feature and the Timer are available via a separate subscription.
In addition, the update will allow users to report a bug from the left menu on BBM's main screen. Speaking of bugs, a number of them are fixed with this updated build of the BBM for iOS beta. One odd one would freeze or crash the app if someone making a call using BBM hung up at the same time that the person being called answered the phone. Another bug fixed wouldn't allow Arabic numbers to be used when typing in a PIN to start a chat.
There is no word on when this build of BBM for iOS will drop the beta designation. None of the other versions of BBM (BlackBerry, Android and Windows Phone) have a beta version available. The BBM for iOS beta is available through TestFlight.
via:
Crackberry