Asus 7" Eee Pad MeMO 3D tablet might be axed or moved to a 2012 launch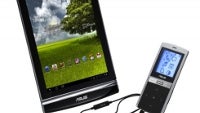 Asus might be having problems with the 3D overlay and some others for its 7" Honeycomb tablet
Eee Pad MeMO 3D
, according to a spokesperson of Asus Netherlands.
Thus the Asus Eee Pad MeMO 3D might be pushed for some time in 2012, or be cancelled altogether, if the issues don't receive a prompt and cheap resolution. While Asus is not the only manufacturer delaying its 7" Honeycomb tablet, as Google just recently updated its tablet OS for this size, it will still be sad to see an innovative form factor like a 7-incher with 3D overlay go the way of the Dodo bird.
The
Asus Eee Pad MeMO was first shown at the CES show
this year in January, then
officially announced by Asus in May
with the surprise addition of a 3D screen layer as the Asus Eee Pad MeMO 3D. Now it seems that the announcement has been premature and, either Asus has determined that there is not much market for such a slate, and is weaseling its way out of the concept, or it has just plain run into production difficulties.
source:
TabletsMagazine
(translated) via
Tinhte