Apple's stock down more than 5% after reporting earnings miss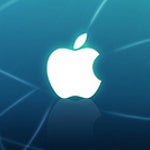 "Apple reports worse-than-expected 3Q results on weak iPhone sales. It will be interesting to see if China–which surprised on the upside in the April quarter–was a reason for the miss this quarter. Shipments of 26 million iPhones missed the consensus number of 28 million, according to Piper Jaffray, although 17 million iPads were better than the 16 million seen by analysts. The miss shows how reliant Apple is on the iPhone being the difference maker in the company's performance."-Goerge Stahl, Dow Jones
Shares of Apple were
down sharply in after-hours trading
after the tech company reported weaker than expected fiscal third quarter earnings. With Wall Street analysts expecting the company to report $10.37 a share in profits, the actual figure came out to $9.32 a share. It was a substantial miss for a company that often downplays its expectations in order to make quarterly reports beat analyst's estimates. Revenue, at $35 billion, also missed expectations for the three month period. The numbers still came in ahead of last year's numbers which included revenue of $28.6 billion and net profit of $7.79 per share.
26 million Apple iPhone units were sold in the quarter
, up 28% from last year. Apple iPad units sold came out to 17 million for an 84% increase over last years' figure. Analysts had expected Apple to sell 28 million units of its smartphone and 16 million tablets in the period. In after-hours activity, Apple's shares were trading at $570.00, down $30.92. The 52 week high for the shares is $644 with the 52 week low at $353.02.
Apple also plunged the pin deeper into the balloon by predicting revenue of $34 billion and earnings of $7.65 a share for the current fiscal quarter, both well below analysts estimates. And while Apple does like to massage expectations lower, as we already pointed out, these figures go well beyond gaming the analyst's numbers. This most likely means that Apple won't be launching the next iteration of the Apple iPhone until October when the new fiscal year begins for Apple. If the
Apple iPhone were to be launched September 21st
as the latest speculation suggests, the company would have had higher expectations for the current three month period which includes September.
source:
WSJ
,
MarketWrap
,
AllThingsD