Apple releases iOS 11.2.1 to restore a feature on the unreleased HomePod
3
Back on December 2nd, a crazy bug was causing certain iPhone models powered by iOS 11.1.2 to continuously crash in a loop. The models with this problem were receiving preset local notifications from certain apps.
Apple was forced to rectify the issue by disseminating iOS 11.2 about a week early
in order to kill the bug. There were some other goodies involved in the update including three new live wallpapers for the
iPhone X
, support for faster 7.5W wireless charging on compatible iPhone models, enhanced stabilization for video recording and Apple Pay Cash.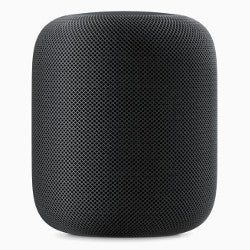 The latest iOS update helps restore a feature to the Apple HomePod that was affected by a security vulnerability
Today, another bug forced Apple to send out a new iOS build to exterminate it. The brand spanking new iOS 11.2.1 resets a feature for an Apple product that isn't even available for sale yet. Apple's HomePod smart speaker, originally expected to launch this month for $349,
is now reportedly scheduled to launch in early 2018
. The previous update to iOS 11.2, left a security vulnerability that could have allowed a hacker to have unauthorized access to HomeKit accessories like smart locks. In other words, someone could have hacked in to a HomePod and opened your front door, if it used a HomeKit smart lock. Apple fixed this issue with a server-side update, but had to disable remote access for shared users.
Today's update brings back the HomePod's remote access for shared users while the security vulnerability is now fully patched. Eligible devices can download and install the update by going to
Settings
-->
General
-->
Software Update
.The new iOS 11.2.1 build weighs in at under 70MB for most devices.
It doesn't seem that Apple decided to include with its latest update, a fix for the glitch that prevents an iPhone user with Apple Pay Cash to reinstall the feature after deleting it from his or her phone. The peer-to-peer payment system, which works in the iMessage application, can be deleted by users. But
the only way to get it back after its deletion, is to perform a factory reset
on the specific iPhone model that the feature was deleted from. We still expect to see a future iOS update that will make it much easier for users to reinstall Apple Pay Cash by simply downloading the application.
source:
Apple