Apple iPhone to be sold in Iran?
99+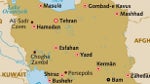 Iranians may soon get their first look at the Apple iPhone. The U.S. on Friday eased restrictions on the
exporting
of communication equipment, including mobile phones, to Iran. The relaxing of the ban is being done in an effort to promote the political freedom of Iranians as Tehran tries to silence its citizens. The U.S.had tightened the ban in an effort to get Iran to stop developing nuclear weapons.
In a statement, the U.S. Treasury Department said, "
The people of Iran should be able to communicate and access information without being subject to reprisals by their government
," but added that the Iranian government itself, and a list of people on a list of "specially designated nationals" would still be subject to the ban.
"Lifting these sanctions is an extremely positive step. There was no better example of sanctions that undermined human rights and civil society efforts of Iranians, and helped the regime."
-Jamal Abdi, policy director, National Iranian American Council
In the past, some Apple Stores would refuse to sell Apple iPhones or Apple iPads to customers it thought were of Iranian descent. Apple feared that the devices would be sent back to Iran to circumvent the ban. Last June, a woman at an Apple Store in Georgia
was not allowed to purchase an Apple iPhone and an Apple iPad
after a sales clerk heard her talking to her Uncle in Farsi.
source:
BBC
via
Textually.org