Apple Store in Georgia refuses to sell Apple iPhone and Apple iPad to customer speaking Farsi
76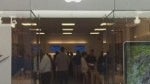 A 19 year old woman from Alpharetta Georgia, was told that company policy prevented an Apple Store in Georgia from selling her an Apple iPhone and an Apple iPad
after she was heard speaking in Farsi to her Uncle
. The woman, Sahar Sabet, told WSB-TV that when she told the sales rep that she was speaking Farsi and was from Iran, the rep said that he couldn't sell the devices to her because the U.S. and Iran have bad relations. The employee pointed out that Apple's policy, which is listed on the company's website, is not to sell products to countries where trade is forbidden by a U.S. embargo. On Tuesday, The Council on American-Islamic Relations called on Apple to change its policy.
"Apple must revise its policies to ensure that customers do not face discriminatory treatment based on their religion, ethnicity or national origin. If the actions of these Apple employees reflected company policy, that policy must be changed and all employees retrained."-Nihad Awad CAIR National Executive Director
This policy has reared its head before when Zach Jafarzadeh of Virginia tried to help a friend of his in Iran purchase an Apple iPhone. He was not asked where the phone was going to and feels that he was
the victim of racial profiling
and that it was his ethnicity that prevented the store from selling him the handset. The Consumerist, a consumer affairs blog owned by Consumer Reports, said that denying that woman the opportunity to purchase the Apple iPhone and Apple iPad because she spoke the language used in a country where we embargo trade, would be like the store not selling a device to someone speaking Spanish because they might have defected from Cuba. The blog asked whether each Apple Store customer from Korea is being asked if he is from North Korea or South Korea.
source:
WSB

Apple's policy on shipping to countries that are the subject of a U.S. embargo