Huawei tells us how big the Apple iPhone XR bezels really are
99+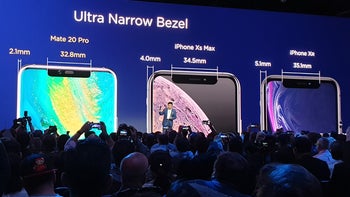 When Apple launched the iPhone XS and iPhone XR series, everybody saw that as much as these phones were similar, the more affordable iPhone XR had noticeably bigger bezels all around the screen. But how much bigger are those bezels exactly?
Well, we had to wait for Huawei out of all companies to tell us: the iPhone XR bezel measures exactly 5.1mm, which compares to 4.0mm for the bezel on the iPhone XS Max. While this is a tiny, difference of 1.1mm, in comparative terms it actually works out to be some 27.5% larger than the XS Max bezel.
You might also be surprised to learn that the notch on the iPhone XR is also bigger: it measures 35.1mm versus 34.5mm on the XS Max.
Of course, Huawei brought all this knowledge in slides on stage at its Mate 20 Pro presentation to show us how the new Huawei flagship with its slightly curved display has tinier bezel and while it has a big screen, it feels much more compact than both the iPhone XS Max and the iPhone XR.
Recommended Stories