Huawei Mate 20 & Mate 20 Pro hands-on
8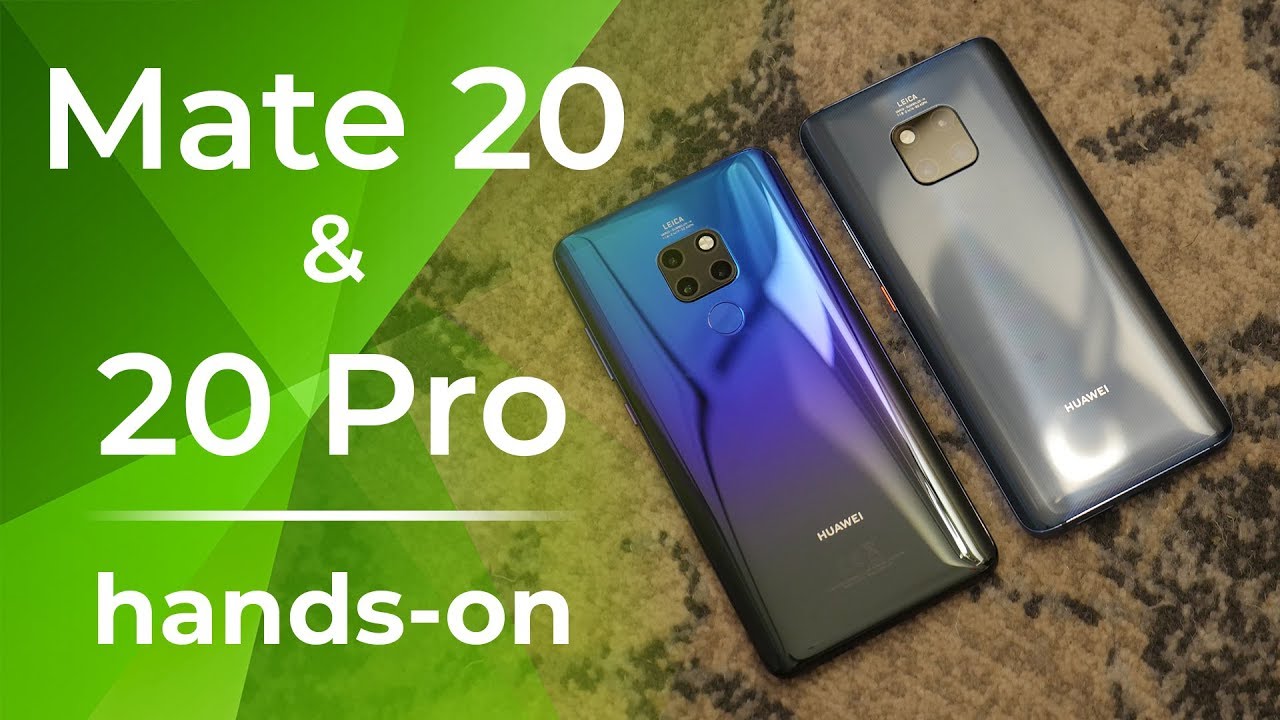 We can't contain our excitement anymore! Huawei arguably has one of the most exciting and highly anticipated announcements of the year with the Mate 20 and Mate 20 Pro, a one-two punch that's going to be making some serious noise this holiday season. While the P20 and P20 Pro were critically acclaimed, US consumers were seemingly left in the dust because the pair were destined for the European and Asian markets. However, the Mate 20 and Mate 20 Pro are understandably focused on the US market.
Design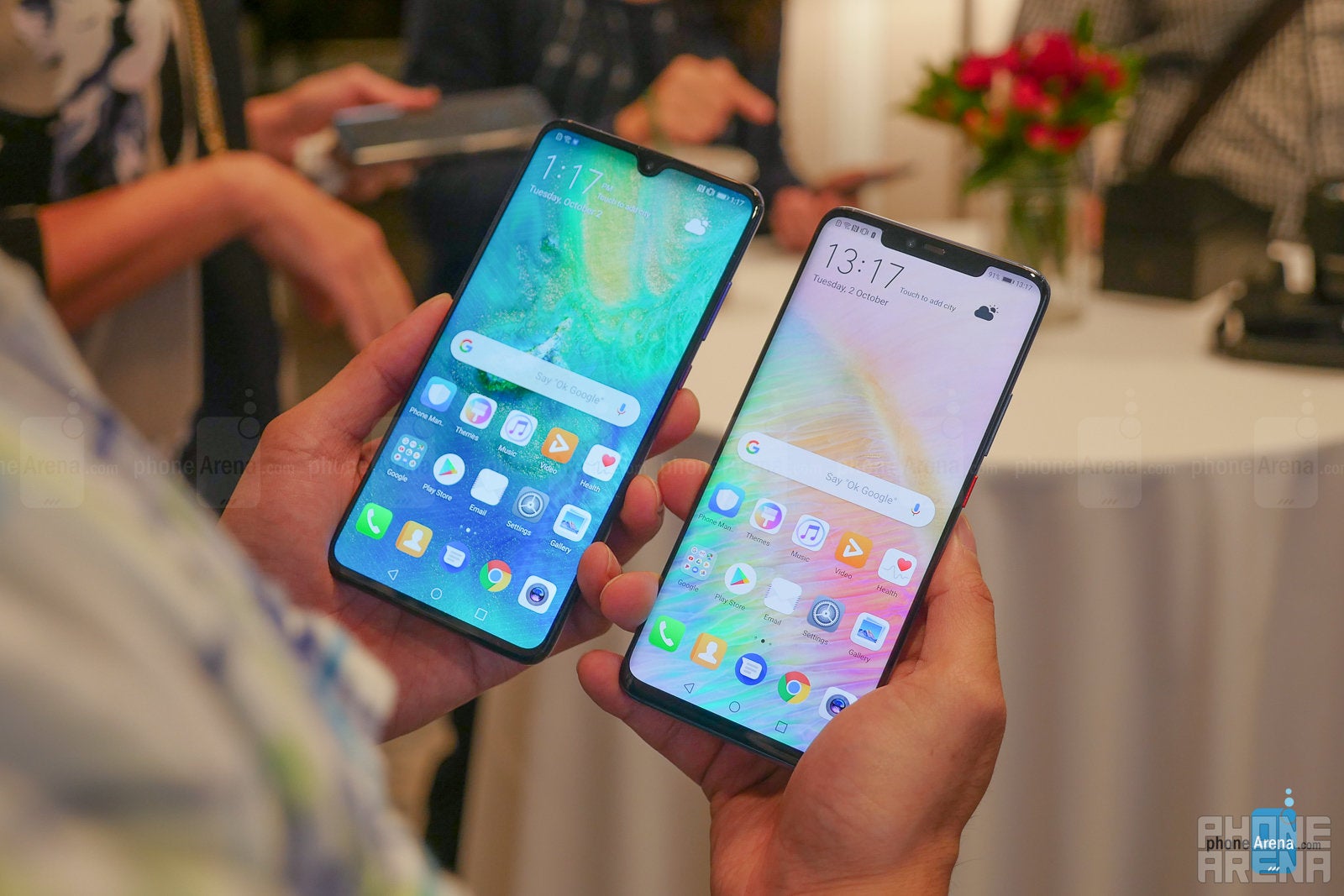 We're presented with two smartphones bearing premium designs with their glass meets metal constructions and distinguishable triple cameras. However, that's just about where the similarities end! The Mate 20, for starters, features a rear planted finger print sensor, a headphone jack, and a less noticeable notch on its display. Meanwhile, the Mate 20 Pro is narrower and easier to handle with the hand.
Aesthetically, the Mate 20 Pro is easier to handle because of its more pronounced curved edges and narrower chassis. Even though it ditches the headphone jack in the process, the Mate 20 Pro benefits from having an IP68 water-resistant construction. Yes, there's a wider notch with its display, which is a distraction of sorts, but it houses a new 3D depth sensing camera system similar to the technology deployed on the iPhone XS. You might be wondering if this implementation replaces the fingerprint sensor entirely for unlocking the phone, but that's not the case.
The most notable thing about the Mate 20 Pro is its in-screen fingerprint sensor! It's the first commercially available smartphone in the US to offer such a thing. And you know what? It works flawlessly. After registering our fingerprint, the position of the sensor illuminates when it senses a finger hovering over it towards the bottom section of the display. Gently resting a finger over it, we're able to unlock the phone with ease. So yeah, the in-screen fingerprint definitely helps to maintain a minimalist design, but we're more ecstatic to know that this kind of technology is finally!
The two phones will be available in a variety of paint jobs, but in our hands-on time we managed to check out specifically the "twilight" gradient version of the Mate 20 – as well as this new "hyper optical pattern" finish with the Mate 20 Pro. This new finish adds a subtle textured feel to the Mate 20 Pro, mimicking vinyl and does better with resisting smudges.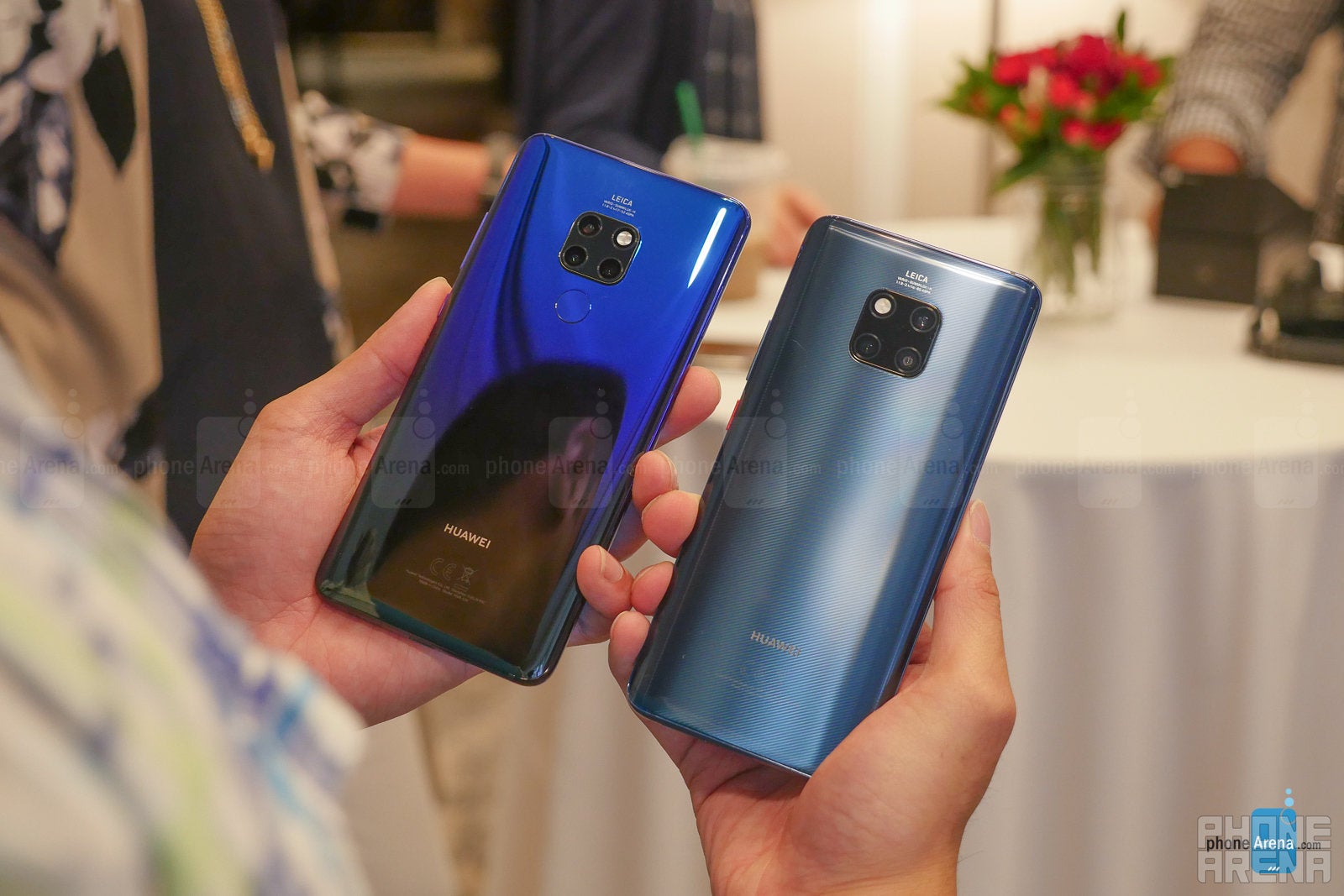 Display
Taking a peek at their displays, there are noticeable differences that are easy to discern on the surface. The Mate 20 packs a 6.53-inch FHD+ HDR LCD display with an 18.7:9 screen aspect ratio. Even though it's not a pixel packing monster like its sibling, it's still pleasantly detailed and gets the job done. Plus, the notch is remarkably less conspicuous – giving it an almost uniform, bezel-less appearance.
However, the richer color tones produced by the Mate 20 Pro's 6.3-inch 2K OLED Display easily commands more of our attention, as well as its wide viewing angles. That should come as no surprise given that those are hallmark qualities with OLED screens. Indeed, the dual-curved edges add to its slicker aesthetics, but we're still enamored by the fact that it features an in-screen fingerprint sensor!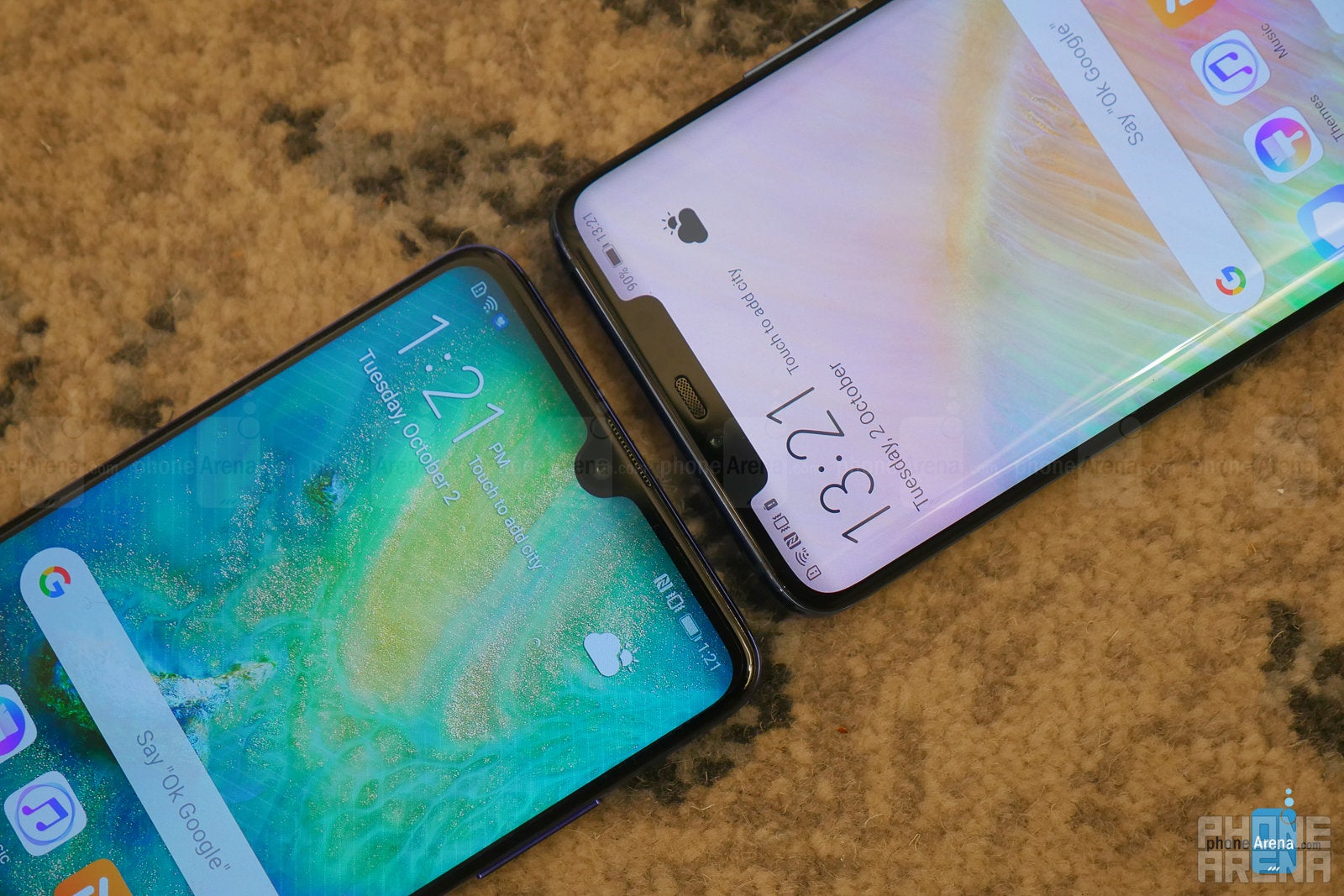 User Interface
Huawei has invested some time simplifying the software experience. Evolving in becoming even more straightforward than before, the company's EMUI 9.0 UI running on top of Android 9.0 Pie appears very similar to previous iteration on the surface, but they've consolidated how certain features and functions are accessed. Rather than have multiple ways of accomplishing simple things, like changing the wallpaper for example, they've eliminated the redundant ways of achieving that. It's difficult right now to confirm these consolidations until we spend more time, but we suppose it'll be beneficial to end users.
As a whole, the look and feel of the EMUI 9.0 interface remains similar to what we had before. Functionally, it suffices, but it'll be interesting to see if it can give the Note 9 a run for its money.
Performance
Leveraging the company's new 7nm processor in the Kirin 980, the Mate 20 and Mate 20 Pro easily exhibits the fluid movements and responses that are indicative of a flagship. Combined with Huawei's claim of simplifying the interface, the performance out of the two phones seem nearly as responsive as Google's new Pixel smartphones. The tight and instantaneous responses are there, but it'll be interesting to see how they perform months after being piled up with more software. Google's Pixels are renowned for their unflinching performances, so it'll be interesting to see how Huawei's offerings compare.
Unlike the Pixels and new iPhones, the Mate 20 and Mate 20 Pro are generous with their storage options, as both are offered in 128GB capacities. Even better is the fact that storage expansion is available courtesy of their microSD card slots!
Camera
Earlier in the year, the P20 Pro upped the ante with their triple camera systems, so it's no surprise that's what we're given here with the Mate 20 and Mate 20 Pro. It's tough to say if we're fans of the square arrangement of the three cameras and flash on the back of the phones, but the new Leica triple camera affair breaks down to a main wide-angle 40MP f/1.8 camera, 8MP telephoto camera with OIS, and an ultra-wide angle 20MP f/2.4 camera – accompanied with a dual-tone flash. Users should be excited for this new camera system, which offers 2.5cm macro photography to get really close to your subject, enhanced Master AI 2.0 for scene recognition, new AI cinema mode for video, and object recognition for active tracking in real-time.
We've seen already the versatility of the P20 Pro's cameras, but the Mate 20 and Mate 20 Pro introduces that new ultra wide-angle lens to allow even more of the scene to be covered. When taking the shot, you'll never have to worry about moving your position to get the framing correctly, just because this trio covers the gamut. Over on the video side, it should prove quite useful as well in giving content creators even more control. However, it remains unseen for now whether or not it'll have enough of the features to overtake the LG 40 ThinQ as the master of video. With the front-facing camera of the Mate 20 Pro, it's sporting a whopping 24MP sensor!
Here are a couple of samples taken with the different cameras, showing you what they're capable of:
Battery
Even with their svelte bodies, Huawei is able to cram sizable batteries into its phones – a 4000 mAh cell in the Mate 20 and an even higher capacity 4200 mAh battery in the Mate 20 Pro. They should be more than capable of delivering longevity, as their predecessors have shown us. The capacities alone are better than average, so we have high expectations with them!
With the Mate 20 Pro specifically, it offers a 40 Watt super charging mode that can fill up its battery by 70% with only 30 minutes of charging. And yes, the Mate 20 Pro features wireless charging as well, which was something noticeably absent with the P20 Pro. However, the phone's coolest feature has to be its ability to transform into a wireless charger of its own – allowing it to charge other wireless charging enabled devices. It's a great way to lend some charge to a friend whose battery is low, or to make sure that your smartwatch isn't going to die on you mid-day.
Expectations
If we're to look at the Mate 20 and Mate 20 Pro on the surface, you could say that they're very much on the same playing field as their contemporaries. Stunning designs? Check. High-end specs? Check. Killer camera systems? Check and check! While the Mate 20 is a formidable smartphone, one that happily continues to adopt the headphone jack and also carries the same triple camera system as its sibling, it's still the Mate 20 Pro that's the more compelling phone! Superficially, it's worthy of being a flagship caliber phone similar to the other handful of phones we've seen announced this fall so far, but it differentiates itself in establishing some new standards.
For one, it's going to be the first commercially available smartphone in the US to feature an in-screen fingerprint sensor. Sure, the 3D depth sensing camera is a great addition, but there's just something satisfying about having a fingerprint sensor still – more so when it's incorporated into the display! And finally, the ability of it to act as a wireless charger is different, something we haven't seen before. When it comes to being innovative, the Mate 20 Pro certainly fits the bill!
In terms of pricing, we haven't been given concrete information about them, but you can expect the Mate 20 Pro's cost to rival that of other newcomers in the space. Certainly expected to reach the $1000 threshold when it launches, you shouldn't be too shocked if it's launched at an even higher price point. As of right now, it's anticipated to even reach $1100, which is still pricey, but as far as phones around the $1000 range worth pursuing, the Mate 20 Pro is definitely a promising prospect!
Recommended Stories