New dummy models showcase design of iPhone X Plus and 6.1-inch iPhone 9
11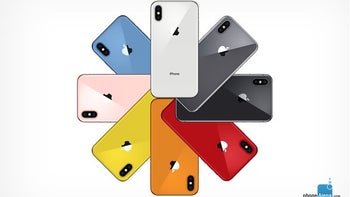 Rumored colors of Apple's 2018 iPhone lineup
Around the 11th of September, Apple is expected to announce a whole new range of products that is set to include everything from
updated AirPods
and
new iPad Pro models
to the
Apple Watch Series 4
and, of course, the 2018 iPhone lineup. And, with little over a month to go before the event, new dummy models have appeared online showcasing the design of two new iPhone models.
Kicking things off with the larger offering, the 6.5-inch iPhone X Plus looks essentially identical to last year's
iPhone X
, the only difference being the sheer size of the new model. This means the glass build and stainless steel frame will be making a return alongside the vertical camera module which acts as the home to two cameras and a dual-tone LED flash. Also, the dummy model in question confirms that the same button layout will be kept. Because of this, the left side will include a Ring/Silent switch and separate volume up and down buttons, while the right side will feature an elongated home button which doubles as a shortcut for Siri.
Switching over to the smaller 6.1-inch iPhone, this could potentially be sold under the iPhone (2018) branding upon launch and will act as the company's cheapest 2018 offering. Much like the new iPhone X and X Plus, this budget model will adopt a new all-screen design, albeit with slightly thicker bezels because of the
LCD nature
of the display. Moreover, while the glass build will also be retained, the rear dual-camera setup seen on the premium offerings has been swapped out for a single rear sensor, thus providing a very
iPhone 4
-like design.
In regards to
pricing and release
, the premium 2018 iPhone X and X Plus are expected to go on sale by the end of September, but in the case of the 6.1-inch model, production problems have reportedly
delayed its release
until October. In any case, once all three models are on sale, the updated iPhone X is rumored to start at around $899, while $999 will open up access to the Plus variant. However, those wishing to save a bit of money should be able to get their hands on the budget model for $699.
Recommended Stories