New patent hints at Apple Watch Series 4 with blood pressure monitoring
31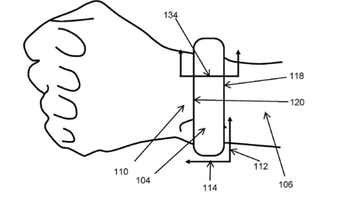 Earlier this year, it was reported that Apple was working on the first major
redesign of the Apple Watch
, set to be introduced later this year alongside an increased focus on health. Well today, in a possible reference to what could on the way, Apple has been granted a patent for a new blood pressure monitor.
The Silicon Valley-based giant initially applied for the patent two years ago and provided a very minimal sketch of what the product could look like. Essentially, it appears to be a regular band that is equipped with several sensors that will track a user's blood pressure at all times, with the wearable then relaying the information to the person via a small touchscreen or through a Bluetooth connected smartphone. Ultimately, this is certainly not a technological breakthrough and it's highly unlikely Apple will release a standalone blood pressure monitor any time soon. Instead, the most likely scenario will see the iPhone giant integrate the technology into its
Apple Watch
Series 4.
Currently, the next-generation of the popular wearable is reportedly set to move away from the rectangular display that Apple's customers have become accustomed to, instead boasting a new circular panel that will also reduce the thickness of the bezels significantly. Despite the visual changes, however, the Series 4 will still be compatible with all previously-released
Apple Watch bands
in a bid to keep owners of previous generation devices happy.
Apple is yet to make any official announcement in regards to the
Apple Watch
, but continuing its annual tradition, consumers can expect the new product to make an official appearance towards the middle of September alongside an updated
2018 iPhone lineup
.