Apple iPhone 7 Plus vs iPhone 6s Plus vs iPhone 6 Plus: specs comparison
5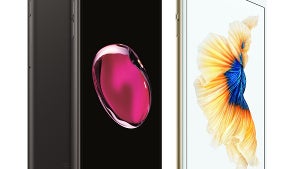 Let's talk about the iPhone Plus and it's three iterations so far.
What started as merely a supersized version of the
iPhone 6
rolling under the "bigger than bigger" tagline has now evolved to Apple's most advanced mobile device yet, greatly distinguishing itself from the regular
iPhone 7
with its dual camera and unique camera features that enable you to enjoy lossless optical zoom and bokeh-rich portrait effect.
Indeed, we are pretty impressed with the 7 Plus so far, so were quick to put it against its two predecessors, the
6s Plus
and the
6 Plus
. Needless to say, the
iPhone 7 Plus
trumps these with relative ease.
Here's in what areas exactly:
500 cd/m2 (nit)
500 cd/m2 (nit)
625 cd/m2 (nit)
Oleophobic coating, Scratch-resistant glass, Ambient light sensor, Proximity sensor
Pressure-sensitive, Oleophobic coating, Scratch-resistant glass, Ambient light sensor, Proximity sensor
Pressure-sensitive, Oleophobic coating, Scratch-resistant glass, Ambient light sensor, Proximity sensor
Apple A8
Apple A9 APL1022
Apple A10 Fusion APL1W24 (16 nm)
Dual-core, 1400 MHz, Cyclone ARMv8-A 2nd gen., 64-bit
Dual-core, 1840 MHz, Twister, 64-bit
Quad-core, 2340 MHz, 64-bit
PowerVR GX6450
PowerVR GT7600
PowerVR 7XT GT7600 Plus
128GB, not expandable
128GB, not expandable
256GB, not expandable
iOS (12.x, 11.x, 10.x, 9.x, 8.x)
iOS (15.x, 14.x, 13.x, 12.x, 11.x, 10.x, 9.x)
iOS (15.x, 14.x, 13.x, 12.x, 11.x, 10.x)
16.0 days (384 hours)
the

average

is 20 days (472 h)
16.0 days (384 hours)
the

average

is 20 days (472 h)
24.00 hours
the

average

is 19 h (1110 min)
24.00 hours
the

average

is 19 h (1110 min)
21.00 hours
the

average

is 19 h (1110 min)
16.0 days (384 hours)
the

average

is 0 days (0 h)
3G: 12 hours; LTE: 12 hours; Wi-Fi: 12 hours
3G: 12 hours; LTE: 12 hours; Wi-Fi: 12 hours
3G: 13 hours; LTE: 13 hours; Wi-Fi: 15 hours
80.00 hours
80.00 hours
60.00 hours
14.00 hours
14.00 hours
12.00 hours
Single camera
Single camera
Dual camera
8 MP (Sapphire crystal lens cover, OIS, PDAF, BSI sensor)
12 MP (Sapphire crystal lens cover, OIS, PDAF, BSI sensor)
12 MP (Sapphire crystal lens cover, OIS, PDAF, BSI sensor)
Aperture size: F2.2; Focal length: 29 mm; Sensor size: 1/3"; Pixel size: 1.5 μm
Aperture size: F2.2; Focal length: 29 mm; Sensor size: 1/3"; Pixel size: 1.22 μm
Aperture size: F1.8; Focal length: 28 mm; Sensor size: 1/3"; Pixel size: 1.22 μm
12 MP (Telephoto, Sapphire crystal lens cover, Autofocus)
Optical zoom: 2.0x; Aperture size: F2.8; Focal Length: 56 mm; Sensor size: 1/3.6"; Pixel size: 1 μm
1920x1080 (Full HD) (60 fps), 1280x720 (HD) (240 fps)
3840x2160 (4K UHD) (30 fps), 1920x1080 (Full HD) (120 fps), 1280x720 (HD) (240 fps)
3840x2160 (4K UHD) (30 fps), 1920x1080 (Full HD) (120 fps), 1280x720 (HD) (240 fps)
OIS, Time-lapse video, Continuous autofocus, Picture-taking during video recording, Video calling, Video sharing
OIS, Time-lapse video, Continuous autofocus, Video calling, Video sharing
OIS, Time-lapse video, Continuous autofocus, Video calling, Video sharing
1.2 MP
5 MP
7 MP
1280x720 (HD)
1920x1080 (Full HD)
6.22 x 3.06 x 0.28 inches (158.1 x 77.8 x 7.1 mm)
6.23 x 3.07 x 0.29 inches (158.2 x 77.9 x 7.3 mm)
6.23 x 3.07 x 0.29 inches (158.2 x 77.9 x 7.3 mm)
6.07 oz (172.0 g)
the

average

is 6.5 oz (184 g)
6.77 oz (192.0 g)
the

average

is 6.5 oz (184 g)
6.63 oz (188.0 g)
the

average

is 6.5 oz (184 g)
Back: Aluminum
Back: Aluminum
Back: Aluminum
Fingerprint (touch)
Fingerprint (touch)
Fingerprint (touch)