Apple iPhone 5 to connect to 4G via HSPA+ says China Unicom
64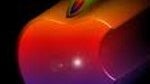 The fifth generation of the Apple iPhone
will offer 4G connectivity through an HSPA+ network
with speeds as high as 21Mbps. This is according to a slide presented by China Unicom at MacWorld Asia. A picture of the slide was obtained by
Macotakara
and shows the history of Apple's iconic touchscreen phone from the original launched in 2007 to the new model expected to launch next month.
The slide has a blank where a photograph of the new Apple iPhone would go. The only details about the new phone is that it will run over HSPA+ pipelines. Those networks have a
theoretical maximum download speed of 21Mbps
which allow carriers to call it a 4G network. Inside GSM versions of the iPhone 4, iPhone 3GS and iPhone 3 is a WCDMA radio that provided maximum speeds of 7.2Mbps while the original Apple iPhone ran on a 480Kbps EDGE network.
In the States, AT&T and T-Mobile offer HSPA+ service, but of the two,
only the former is an Apple iPhone vendor
. Verizon, the other carrier to offer the phone in the U.S., uses LTE technology for 4G. Back in April, Tim Cook-then Apple's COO-said
that while the company has explored using the technology, there was no rush to add LTE connectivity
to its products.
source:
Macotakara
(translated) via
AppleInsider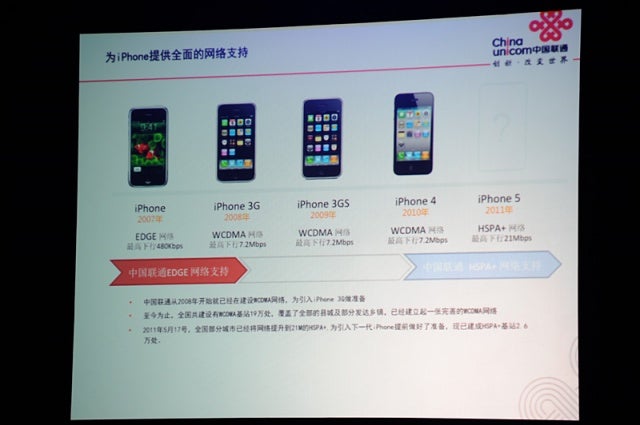 This slide, presented by China Unicom, shows HSPA+ connectivity for the next Apple iPhone