Apple grabbed 62% of global smartphone profits during the second quarter
67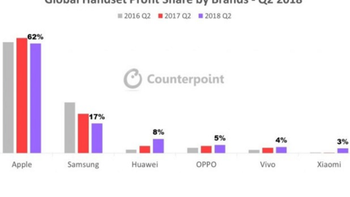 While Apple didn't sell the most smartphones globally during the second quarter, according to the latest data from Counterpoint Research, it contributed the biggest share of industry profits during the three months from April through June. The report states that Apple earned 62% of second quarter profits related to smartphone sales. Samsung was second, responsible for 17% of smartphone profits in the quarter. In other words, Apple's Q2 smartphone profits amounted to more than 3.6 times the amount earned by Samsung.

While Samsung has seen its second quarter profitability decline over the last three years, the opposite has been true for Huawei. The latter finished third, accounting for 8% of smartphone profits during the period. Oppo (5%), Vivo (4%) and Xiaomi (3%) held the fourth through sixth spots respectively. Counterpoint noted that the Chinese manufacturers produced more high-end handsets in the period, allowing the phone producers in the country to score $2 billion in industry profits for the first time.
We should point out that if these figures are accurate, the iPhone brought Apple $6 billion in profits during the quarter, on $30 billion in sales. On the other hand, Counterpoint says that Samsung's Q2 profits attributable to smartphones declined 21%. Shipments of the Samsung Galaxy S9 series dropped 24% compared to shipments of the Galaxy S8 series during the second quarter of 2017.
Other stats released by Counterpoint show Apple's dominance in the premium market. During the second quarter, the iPhone was responsible for 88% of the revenue generated by sales of smartphones $800 and higher. Apple and Samsung battled for control of the market for phones priced between $600-$800. Apple's 44% slice of the revenue in that segment of the industry, compared to the 41% belonging to Samsung.
The $400-$600 range of smartphones during the second quarter was led by Oppo and Apple, each with 22% of the revenue generated by smartphone sales in that price segment. Samsung (16%) and Huawei (14%) were next, followed by Xiaomi (6%) and OnePlus (5%).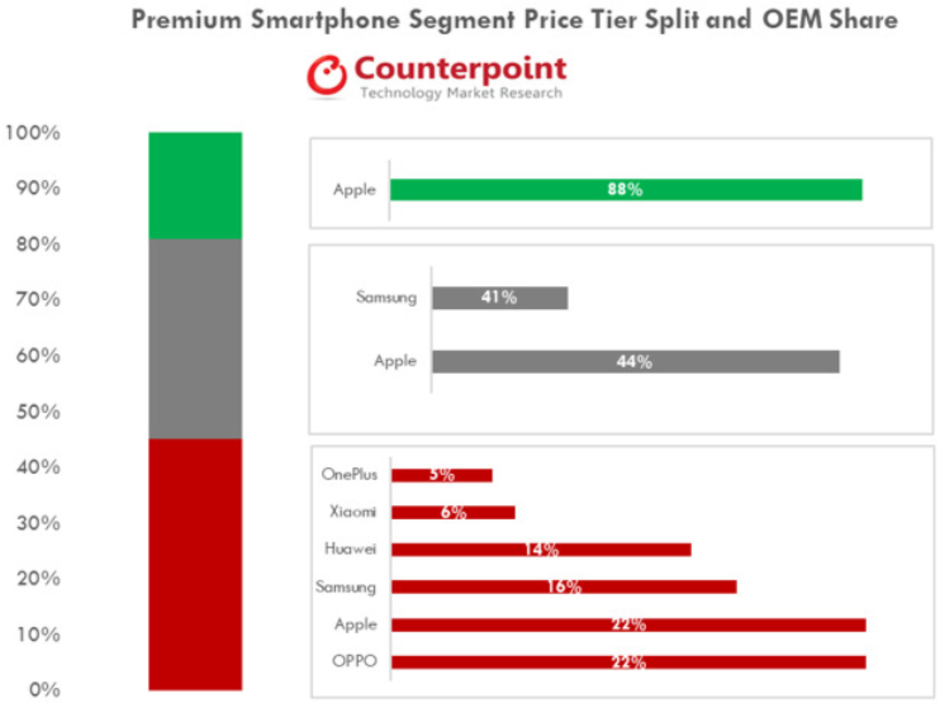 Apple dominated the global premium phone market during the second quarter