Apple downgraded after analyst sees Apple Watch unable to meet hyped expectations
99+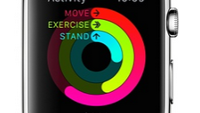 Raymond James analyst Tavis McCourt downgraded Apple's shares this morning to market perform after he had rated the stock at Outperform since January 28th, 2014. The Apple Watch was the reason behind the downgrade with McCourt concerned that the hype for the smartwatch cannot be met by the actual device.
McCourt also mentioned that a survey of iPhone users taken last month showed only 5% would be buying an Apple Watch, down from the 10% that said that they would buy it in December. The smartwatch must be paired with an
Apple iPhone 5
and higher. Despite all this, the analyst pulled out his trusty abacus and computed that iPhone sales remain strong in China. That, and continued share buybacks conducted by Apple, have led him to raise his estimate for fiscal Q2 earnings to $2.15 a share from his earlier estimate of $2.02. That tops the Wall Street consensus which is looking for Apple to report $2.13 a share for the three month period, up from $1.66 a year ago. Apple will release the report on April 27th.
"Although the financial impact of the Apple Watch is almost immaterial near term, we are concerned that relatively muted reviews so far could place added fear in investors' minds about the company's ability to launch successful new product categories."-Tavis McCourt, analyst, Raymond James
Meanwhile, Apple has started taking pre-orders for the Apple Watch today. Those looking to purchase the device started reserving the latest Apple product from the online Apple Store starting his morning at 3:01am EDT. Shipping time for the device has now been pushed back four to eight weeks with
some models not expected to arrive until August
.
Apple's shares are currently trading at $127.06. That is up 50 cents from Thursday's closing price.
Thanks for the tip!
source:
MarketWatch