Apple asks developers not to use gold Apple iPhone 5s in marketing images
9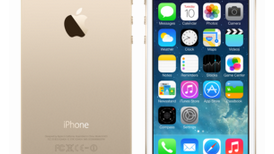 In past years, Apple asked developers to use only the black Apple iPhone when marketing their apps. But that restriction, which wasn't firmly enforced by Cupertino, is no longer in effect. With the launch of the new colors for both the
Apple iPhone 5s
and
Apple iPhone 5c
, Apple is now allowing developers to use other colors besides black in their marketing material. But not all of the shades can be used.
On its App Store Marketing Guidelines page, Apple has diagrams of its devices that are to be used by app developers to promote their work. Developers can show a screenshot of their app on an Apple iPhone 5s,
Apple iPad Air
or an
Apple iPad mini with Retina display
in silver or space gray, or on an Apple iPhone 5c in white or blue.
Why keep the gold Apple iPhone 5s away from developers' marketing? Well, if you've seen Apple's own ads for its new full-featured iPhone, you might notice that the gold version shows up quite often. It could be that Apple wants to keep the gold colored iPhone 5s for its own promotional material. Of the three color options, gold was the most popular out of the gate and those looking for a gold iPhone 5s were met by shortages. Apple has
since increased production of the gold model of its new flagship smartphone
.
source:
Apple
via
MacRumors
Recommended Stories