Apple Watch saves the life of a 17-year old football player; Tim Cook rewards him with an iPhone
40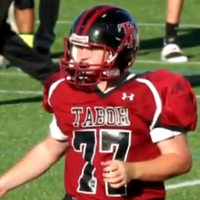 Paul Houle, a 17-year old who plays nose tackle for the Tabor Academy football team, credits his brand new
Apple Watch
for saving his life. Houle had just wrapped up a practice session when he started feeling pain in his chest and back. Using his Apple Watch, he discovered that he had a heart rate of 145 for two-hours after practice ended. After calling his trainer, Houle's heart rate was checked manually, resulting in an immediate visit to the hospital.
Houle was diagnosed with rhabdomyolysis, a condition that results when heavy exercise leads muscle cells to leak enzymes and proteins. Rhabdo can lead to kidney failure and death. Drinking plenty of water can help hold off rhabdomyolysis. "
Drink lots of water and also listen to your body and seek help if something is wrong
," said the teenager.
While Houle will miss the entire football season, he will be able to snap pictures of games with his new Apple iPhone. When word of the incident reached Apple CEO Tim Cook, the executive took some time out to personally call the teenager. Not only did Cook offer the student a brand new iPhone, he also gave him an internship at Apple for next summer.