Apple Pay to launch in Australia and Canada by the end of this year
14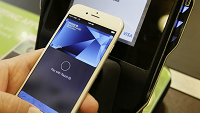 Currently available in the U.S. and the U.K., mobile payment service Apple Pay will be coming to Canada and Australia before the end of this year. The inclusion of Canada is not a surprise since the country has been rumored for some time to be a destination for the feature. As early as this past April,
there was speculation that the service would make its Canadian arrival during November
. Two weeks ago, Canada's TD Trust Bank accidentally listed Apple Pay on its website as an option for its customers paying bills.



The news, which was announced by Apple CEO Tim Cook during the company's fiscal fourth quarter earnings call, also mentioned that Apple will be partnering with American Express for the Canadian and Australian launches of the mobile payment service in those countries. Apple also announced that Apple Pay will be available next year in Singapore, Spain and Hong Kong. Still missing from that list is China. Apple, which has become a very popular brand in the country, apparently is still having trouble getting UnionPay and other Chinese financial institutions to sign off on a deal.

Kohl's also tweeted the news today that its branded credit card will now work with Apple Pay. The card is the first store-branded one to work with the mobile payment service. Now that this has been announced, we can expect other retailers like JC Penney and BJ's Wholesale Club to add their branded cards to the lineup.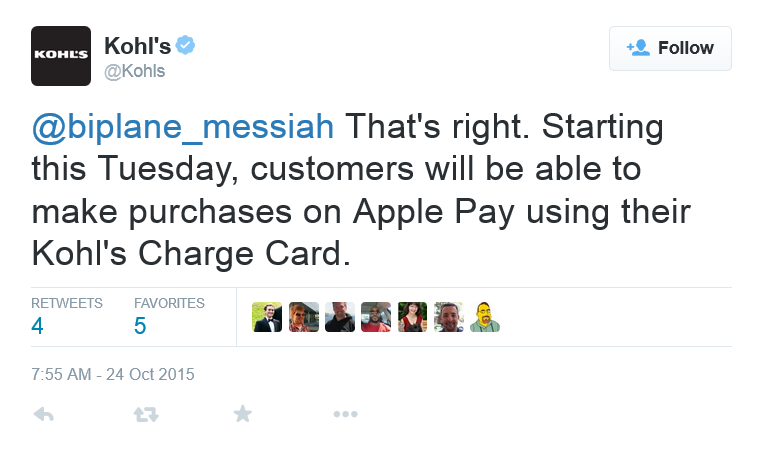 Kohl's credit card is the first store-branded card to be eligible for use with Apple Pay


source: AppleInsider, @Kohls