Apple Pay to make its international debut November in Canada?
8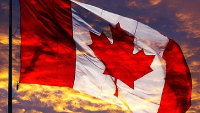 Back in January, there was some speculation that
Apple Pay would launch in Canada during March
. That never happened, and now there is fresh talk that the country will be the feature's first international market when it launches there in November. According to the
Wall Street Journal
, Apple is in talks with six Canadian banks about starting up the service for Canadian credit cards and debit cards.
But as
Apple found out in its negotiations with Chinese banks
, there are some objections to the percentage of each transaction that Apple is asking for. In China, Apple is reportedly asking for .15% of the 2% fee that credit card companies take on each sale, which is what it is rumored to be receiving from U.S. banks, along with half a cent for debit card transactions. It isn't known whether those are the same terms that Apple is negotiating with the financial institutions in Canada. The Journal says that Apple might be asking for as much as .25% of the credit card fee on each sale.
The six banks that are currently talking to Apple,
Royal Bank of Canada
,
Toronto-Dominion Bank
,
Bank of Nova Scotia
,
Bank of Montreal
,
Canadian Imperial Bank of Commerce
and
National Bank of Canada
, are also said to be worried about issues with security. Last month,
stolen credit card data taken from retailers like Home Depot and Target
were used to make fraudulent purchases.
The six banks, which together account for 90% of retail bank deposits in the country, have hired consultancy firm McKinsey & Co. to develop rules and regulations related to security for Apple Pay. To improve security, Canadian banks want Apple to require another level of proof to verify that a particular credit card belongs to the person using it with Apple Pay. That might require a PIN number or a one-time passcode to be entered before a card is used with Apple's mobile payment service.
Canada is considered a great market for Apple to enter, not only because of its proximity to the U.S. In the country, the iPhone has a 33% market share, higher than the 20% share of the smartphone market owned by the device globally.
source:
WallStreetJournal