Apple Pay adds 34 U.S. banks and credit unions this week
2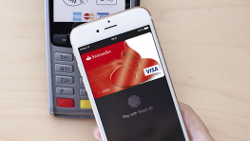 More U.S. based banks and credit unions are putting their John Hancocks on the dotted line as 34 of them signed up to be part of Apple's mobile payment service Apple Pay. Besides the U.S., Apple Pay is currently available in Australia, Canada, China, Singapore, and the UK. Retailers in Brazil, France and Japan should soon be accepting it as well.
Earlier today there was a report stating that Switzerland's addition to the list of countries accepting Apple Pay was imminent with the actual announcement expected at WWDC. Apple is believed to be
focusing on European and Asian countries
to further expand the feature.
The more markets that use Apple Pay, the more money Apple will bring in to its coffers. Apple's take on credit card transactions that are rung up using Apple Pay is believed to be .15% On debit card transactions involving Apple Pay, Apple reportedly receives a flat rate fee. The money comes from banks and payment networks.
The new financial institutions added to Apple Pay today include:
121 Financial Credit Union
Acclaim Federal Credit Union
Boston Firefighters Credit Union
Catholic Vantage Federal Credit Union
Coastal Community Federal Credit Union
Commonwealth Community Bank
Cumberland Valley National Bank
Discovery Federal Credit Union
First Heritage Federal Credit Union
First National Bank of Carrollton
First National Bank of Fort Smith
First Security Bank & Trust
First State Bank of Wyoming
Sandia Area Federal Credit Union
Siouxland Federal Credit Union
Synergy Federal Credit Union
The Honesdale National Bank
University of Toledo Federal Credit Union
source: AppleInsider