Apple News to feature editor-curated news stories
3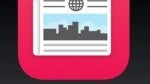 A couple of weeks ago, an Apple job listing hinted at the fact that
Apple Maps might eventually be launched as a web-based service
, available on all operating systems. Today it looks like a new Apple job listing revealed information about
Apple News
, the upcoming news aggregation app that will replace Newsstand when
iOS 9 launches this fall
.
The job listing says that Apple is looking for Journalism majors with five or more years of experience in a newsroom. These editors should be able to identify the best news articles in a variety of categories and scopes. The ideal candidates will also be familiar with social networking tools, content analytics, and newsletter production. There's a very good chance that these editors will be the ones who select the articles that will populate the 'Explore' tab in Apple News.
Back when Apple unveiled News at WWDC 2015, the company said that the app will bring together articles from multiple places on the web. Although, during the presentation, the company focused on its partnerships with major news publishers, it also revealed that smaller news outlets will be able to send their own RSS feeds. The job listing says that candidates should also possess the ability to coordinate with major publishers and newsrooms, while also being able to identify original, compelling stories from the smallest of publishers.
Unlike other news aggregators, such as Google News, which rely on algorithms to detect the best news articles on the web, it looks like Apple News will take a more humanly curated approach. This seems to be new train of thought over at Apple.
Apple Music
, the music streaming service that everyone is talking about at the moment, also comes with a humanly-curated playlist feature called Beats 1. Unlike Spotify, which uses algorithms to detect the songs that you're most likely to enjoy, Beats 1 features playlists created by actual DJs.
What do you guys think of the fact that Apple is relying on professionals to surface compelling content?