Apple CEO Tim Cook marks the third anniversary of Steve Jobs' death with email message to Apple employees
68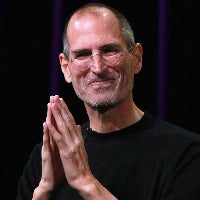 Sunday marks
the third anniversary of the passing of Steve Jobs
. Apple's co-founder was taken from us way too early, at the age of 56. Regardless of whether you liked him or hated him, the truth is that he touched everyone's lives for the better. Think about the all of the times that you saw a Pixar movie and smiled because your kids did. Steve Jobs of course, was one of the co-founders of Pixar.
Even if you currently rock an Android handset, you can thank Steve Jobs for the enjoyment that you get from the device everyday. After all, Android was not originally designed to support touchscreens until the Apple iPhone launched. And of course, the Apple iPad started a whole new category.
No, Steve Jobs was not perfect. He had faults, just like all of us have. But he did have drive and he did have vision. He and Steve Wozniak started a company in a garage, and it became the most valuable company in the world. That is quite a feat.
In advance of Sunday's anniversary, current Apple CEO Tim Cook sent out a message to Apple employees, which we have posted below. Perhaps the true value of a person is how much he is missed when he or she is gone. You don't have to be an Apple fan to acknowledge that there has been something missing on this planet since October 5th, 2011.
Team,

Sunday will mark the third anniversary of Steve's passing. I'm sure that many of you will be thinking of him on that day, as I know I will.

I hope you'll take a moment to appreciate the many ways Steve made our world better. Children learn in new ways thanks to the products he dreamed up. The most creative people on earth use them to compose symphonies and pop songs, and write everything from novels to poetry to text messages. Steve's life's work produced the canvas on which artists now create masterpieces.

Steve's vision extended far beyond the years he was alive, and the values on which he built Apple will always be with us. Many of the ideas and projects we're working on today got started after he died, but his influence on them — and on all of us — is unmistakeable.

Enjoy your weekend, and thanks for helping carry Steve's legacy into the future.

- Tim
source:
9to5Mac
via
RedmondPie