Apple may finally release its AirPower wireless charger in September
18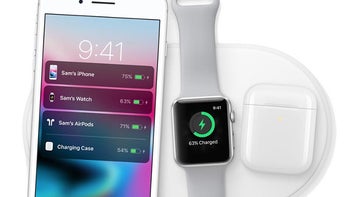 Back in September, alongside the revelation that Apple's newest
iPhone
lineup would support
wireless charging
, the Silicon Valley-based giant announced AirPower, a charging mat that was capable of topping up multiple devices at once. Nine months later, though, the company is yet to release the product and, if a new report is anything to go by, customers may have to wait even longer.
According to
Bloomberg
, the accessory is taking longer to finalize than
Apple
had initially expected due to various technical difficulties. Unsurprisingly, stopping the product from overheating when charging more than one device is proving to be the biggest obstacle – most wireless chargers currently available can only charge one product at a time. Besides this, the company also wants the offering to charge products no matter where they are placed down on the mat. This requires the placement of numerous charging sensors which, when combined with the difficulties related to the complex circuitry, is proving to be a big challenge. Also, it turns out that the physical aspects aren't the only details causing delays. In fact, engineers on the project are still removing bugs from the firmware that is included alongside the custom Apple chip that runs a basic version of
iOS
in order to improve device management and pairing,
Presently, it's understood Apple's initial shipment goal was June, but in light of the unforeseen difficulties,
the company
is now said to be aiming for a September release, possibly coinciding with the launch of the
2018 iPhone lineup
. Regardless of the delays, though, Apple's next accessory will play a much more important role in the company's end goal of removing all physical ports and buttons from iPhones.