App Store reaches 10 billion app downloads, winner considers iTunes' VP call a prank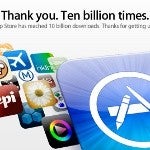 Just recently the App Store registered10 billion downloaded apps, mere 31 months after its launch and witha catalogue of more than the whopping 400,000 apps. The lucky personto download the 10 billionth app was expecting a $10,000 iTunes giftcard, but was close to missing the prize.
Paper Glide
app from their mom's iPhone using heriTunes account. Ms. Davis from Orpington, Kent in the UK wassurprised by the call from iTunes' VP Eddy Cue and hang up thinkingit was a prank call. It was later that her daughters explained herthat it might have been real. That's when Davis realized her mistakeand made a frantic attempt to contact Apple, but – alas – shecould only reach a customer service representative, who had noinformation. Hours later, when Davis already started losing hope, acall from Cue's colleague followed, so the lucky winner and herdaughters could get their prize.
At more than 400,000 applications, theApp Store has almost double the number of its closest competitor –the Android Market.
source: Seedol