Angry Birds Rio coming to Windows Phone "very soon"
12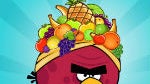 Rovio has been coming quickly with the Windows Phone announcements recently. Angry Birds on the platform just got an update with
new levels
and has been made free for two weeks, the game has also been found to
run on low-end Windows Phone devices
. Now, word is coming out that Angry Birds Rio is coming to Windows Phone "very soon" (despite the fact that the movie tie-in is long past).
As far as Angry Birds games, we're sure that Windows Phone users would rather have Angry Birds Star Wars than Rio, but Rio is still a solid game if you're a fan of the series. The news came as a short message at the end of the blog post about the recent update and sale for the original Angry Birds on WP. Michael Stroh said simply, "And speaking of future releases—I'm hearing that that Angry Birds Rio is on the way for Windows Phone 'very soon.'"
No word yet on what levels would be available at launch, or the price, but it's always good news when another quality game is coming to your platform of choice.