Android use surges to over 60% in July
36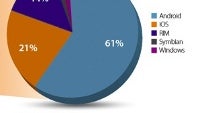 Android's growth is something we're already used to, but it's the leaps and bounds that the platform takes that exceeded expectations in July as Google's OS jumped by 7% to reach 61% of all mobile operating systems in July, a report based on smartphone usage on Millenial's ad network showed. Millenial has one of the biggest mobile ad networks in the States. Android has been the
leading smartphone platform
in the last eight months, while iOS devices remained a distant runner-up capturing only 21% of the market, a huge 6 percentage point drop in the last month. RIM and its BlackBerry OS was the third platform in the ranking, rounding up a total market share of 96% for the first three operating systems.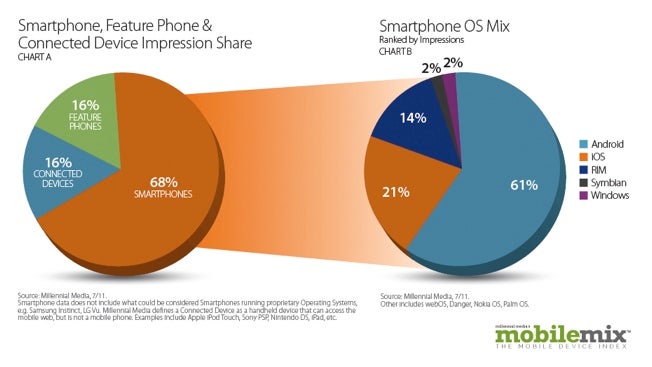 Symbian and Windows Phone
accounted for only 2% of the market.
Apple at the same time remained the
biggest vendor
in Millenial's statistics for July with a 26.45% share, followed by Samsung occupying slightly more than 19%. The iPhone dominated the devices chart with its 13.6% share, with the Android-running Nexus S and RIM's BlackBerry Curve trailing behind.
Could those dynamics change next month when a handful of events are set to stir the market? The Galaxy S II is expected to get announced stateside on August 29th, while September 1st seems to be the date for the first Mango devices to appear along with new Android handsets. Plenty of room for speculation, isn't there?
source:
Millenial
via
BGR