Android Wear 2.9 update for the phone app to roll out within days
9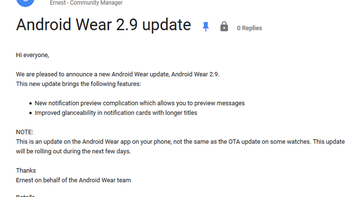 According to the Android Wear support page, Google is now ready to send out Android Wear 2.9. The update will start rolling out in a few days. Keep in mind that this is not an OTA update for an Android Wear powered timepiece. Instead, this update is for the Android Wear app that is installed on the phone. The update includes a new notification complication that allows you to view previews of your messages. Another change adds "improved glanceability in notification cards with longer titles."
In addition, a dot will be found by default at the bottom of a watch face to indicate an unread notification. Before the Android Wear 2.9 update, this was a feature that you had to enable to turn on. The dot will be white by default, although developers can change the color if white doesn't mesh well with a particular watch face. We told you all about some of these new notification features for Android Wear last month, when
Google added them to Android Wear SDK. Version 2.2.0
.
Besides the notification dot, Android Wear powered watches can show you how many unread notifications you have on your smartwatch. This number can be seen on the system tray, or placed at a unique location on the watch face.

With the update to Android Wear 2.9, your timepiece can alert you to unread notifications via a dot or a counter
source:
Google