Android Wear 2.0 will make its way to the first-gen Huawei Watch before the end of March
4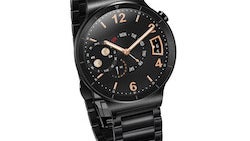 One of the few smartwatches that was shown off at this year's Mobile World Congress was the Huawei Watch 2 - one of the only wearables that features Android Wear 2.0 out of the box. While it was great to go
hands-on with the latest version of Android Wear after the Watch 2's announcement
, the actual hardware is extremely polarizing to what Huawei crafted with the original Watch that was released in 2015.
If you prefer the looks of the OG Huawei Watch and are itching to get your hands on Wear 2.0, we've got good news. According to a tweet from Huawei's German account on Twitter, the 2015 Huawei Watch will be receiving the update to the latest version of Android Wear before the end of March. We don't have an exact date as to when the update will start rolling out to users, but at the very worst you'll need to wait a little more than two weeks.
When that update does hit your Huawei Watch, you'll be in for a real treat. Android Wear 2.0 includes a large amount of improvements and features, including the Google Assistant, more customizable watch faces, smoother performance, and new animations throughout the user interface. Better yet, the 2.0 update will finally let you make use of the NFC chip in the Huawei Watch so that you can start making payments using Android Pay.