Android Messages gets renamed following rumors about Android brand phase out
20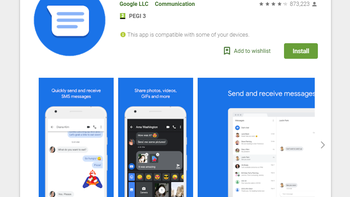 After initially launching as "Messenger," a name that could easily be confused with
Facebook Messenger
, Google renamed the default SMS app on its mobile OS to "Android Messages" almost two years ago. From the looks of things, though, the internet giant wasn't too keen on this name either and has now dropped the Android branding entirely.

While this change is technically only valid for its listing on the Play Store, the SMS app was already displayed as "Messages" in the app drawer on Android smartphones. So, for most people, the update will go unnoticed.
Rather interestingly, this branding modification comes shortly after new reports emerged claiming Google will eventually
scrap the Android name
entirely. Allegedly, the Android brand has proved rather ineffective when it comes to promoting consumer hardware and services in recent years, which is why the company is hoping to phase it out in the near future. But at the moment, the internet giant is said to be facing objection from some Google officials who are emotionally attached to the name.
The branding change for the default SMS app could either be a pure coincidence or the beginning of the end for the Android name. Ultimately, though, the popular operating system is set to be replaced by Google's
Fuchsia OS
within the next few years, so sooner or later Android will no longer be a thing.